I've been playing around with cognitive aids such as checklists and action cards for a couple of years (some are available via the RESOURCES section of this site or RURALDOCTORS.NET. Most of these were designed for handing off to nursing staff in the rural ED, partly to mitigate against the phenomenon of people disappearing off to the 'big book of infusions' to look up compatibilities during infrequent care of critical patients. I certainly have no problem with cognitive offloading and use of such aids in a crisis – pilots do it, and I think use of action cards is an under-utilised phenomenon in the emergency medicine.
These checklists and action cards were designed to be used both in printed format or electronically as PDFs (ipads are great for this). However working in the prehospital environment soon teaches that reliance on technology (particularly iPad or iPhone) is not without problems – mobile coverage is dismal in country (and can be at altitude)…and power failures, inadvertent water splashes or hard knocks can trash iShiny devices too easily. Recognising this, MedSTAR issue their staff with a "Vuey Tuey" – basically a 20 page clear pocket folder that fits easily in a flight suit pocket. It contains useful phone numbers, flight times to rural hospitals and other useful information.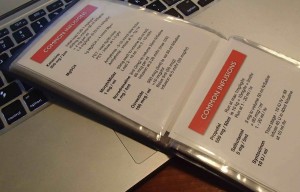 I've snaffled a few of these "Vuey Tueys" from eBay (they're also available from Army Surplus stores online). The 40 page one is not overly thick (about 1cm) and accommodates 80 sheets of paper. The aim was to create a series of action cards useful for rural doctors, particularly members of the South Australian Rural Emergency Responder Network (doctors who respond to prehospital incidents to back up local volunteer crews where no ICP available).
So here's a series of RERN ACTION CARDS – designed with members of the South Australian rural doctor RERN team in mind  – but the content may be useful for any rural doctor who is looking for a quick pocket reference that can be easily adapted to local use.
The original was created in Pages on OSX, then converted to indivdiual PDFs and merged into one document. I am more than happy to share original files if anyone wants them to modify, or can download the entire PDF here.
One quirk of the "Vuey Tuey" is the page size – 95 x 135mm! So I generally print out two sheets onto A4 and trim up with a paper cutter.
Contents include:
principles of prehospital care
airway
breathing
circulation
crisis algorithms
drug doses
I am a big fan of making content available for all to share – and am happy to add extra sections or modify content if needed.
I should also emphasise that this content is NOT from MedSTAR, but a collation of various tips and FOAMed that I've found useful. Interestingly some retrieval services make their content available to share – I remain impressed with the efforts of SydneyHEMS, AucklandHEMS and UK-HEMS in this regard. Indeed, Karel Habig and colleagues gave some useful lectures at the 2014 Rural Medicine Australia conference – it's refreshing to see such content from prehospital care creeping into rural arenas – and the PROTECTAustralia paradigm is very worthwhile.
Certainly with approx 2/3rds of trauma coming from rural areas, it makes sense to engage with rural clinicians and strive to drive "quality care, out there"
I am no expert, but seems to me that much of critical care is about doing the basics, well – and that whilst some rural doctors embrace the challenge of managing these patients, others are understandably nervous or feel under-prepared. I think this is where FOAMed, delivering asynchronous content, robust clinical governance and standardisation of protocols such as infusions etc can make a difference.
Anyhow, here are the cards. It's a work in progress. Enjoy!
RERN ACTION CARDS – click to download (NB RERN = Rural Emergency Responder Network)
Feedback and suggestions for additions/alterations welcomed.