The South Australian Coroner has just released a report into the sad death of Mr Simos, who died whilst awaiting transfer from a rural ED back to a tertiary centre where he was under a current detention order.
The Coroners report can be accessed here. As with all Coroner's reports, it makes for salutary reading and in due course I shall add it to the other list of Coroners cases of relevance for rural doctors, over at ruraldoctors.net.
Case summary
The full report can be read online. In essence though, this as a patient whose medical history involved :
florid psychosis, being treated as a "detained" patient (level 3 treatment order)
obesity
COPD
obstructive sleep apnoea
poorly controlled diabetes
hypercholesterolaemia
The patient absconded from an open ward, where he was under psychiatric care in the city. He was subsequently apprehended by police and taken to a rural hospital under existing treatment orders, with a view to being returned to the city psychiatric unit. During the course of this admission he required sedation with olanzapine and lorazepam, and an RFDS transfer was requested. Further episodes of agitation resulted in the administration of midazolam, then respiratory depression requiring assisted ventilation and reversal with flumazenil. Anaesthetic consultation was sought in regard to the pros and cons of intubation; this was deferred as patient was maintaining own airway.  Some 12 hours after admission, transfer had still not eventuated. On advice of liaison psychiatrist, haloperidol and promethazine were administered for further agitation.  A short while afterwards the patient suffered a cardiorespiratory arrest.  The cause of death was undetermined – respiratory depression, agitated delerium and QTc abnormalities were considered and dismissed in Coroners report.
Expert analysis and Coroner's recommendations
The Coroner made comment of the need for timely transfer of such detained patients from rural facilities to tertiary centres, mindful of the limitations of managing such patients in rural SA.  Existing guidelines were acknowledged.
Expert opinion from the CountryHealthSA lead for emergency medicine was not critical of any particular management decisions. There was opinion given that management of such cases should involve
a structured response (rural doctors, hospital, retrieval service, psychiatric expertise
a "team leader" responsible for management decisions
a "flow chart" to guide delivery of care, including assessment, drug use, physical restraint, transport type and final destination
No criticism was made regarding decision to intubate/not intubate, nor use of medications. No comment was made on use of RASS, ETCO2, staffing, availability of airway expertise nor use of alternatives such as ketamine infusion.
Why does this matter?
Such cases are not uncommon in rural Australia. This sad case highlights several teaching points that I would encourage ALL rural doctors to consider, namely :
familiarity with initial "go to" drugs for managing acute agitation
assessment of risk of sedation vs exacerbating medical issues (this patient was obese, with OSA and COPD, probable underlying IHD)
appropriate monitoring
options for transfer or retrieval
demands of such acutely unwell patients on clinical staff in rural hospitals and ability to deliver care over a potentially prolonged period of time
The Coroner's report doesn't really cover these in much detail – of course in this case appropriate decisions were made and cause of death remains unclear. However I believe that the Coroner's report could have done more to illustrate appropriate standards of care and to inform other rural clinicians. That it has not done so has prompted this post.
In short, whilst the Coroner has recommended more rapid transfer of such patients to the receiving institution, the Coroner & advising experts have not taken the opportunity to educate rural clinicians on the pertinent issues of safe sedation for this cohort.  This man died because of the medical interventions, not because of a lack of transfer.
Typically such patients are unfasted. They may require large doses of drugs for initial control of agitation and all require meticulous monitoring. My approach to these patients has been guided by knowledge gleaned from the FOAMed world, in particular an excellent discussion from the BroomeDocs blog a few years ago, as well as the ongoing work from Dr Minh le Cong and others on psych sedation in rural Australia.
A safe and structured approach to such patients might involve :
early telepsych consultation and teleconference with retrieval service re: transport urgency and available options
an agreed plan for both immediate and ongoing restraint
if using chemical restraint, to carefully consider risks of these agents in regard to unfasted airway, body habitus, cardiorespiratory effects and underlying concomitant medical conditions (anaesthetic risk)
weigh risks of harm to self/others if agitation not adequately controlled
I like to think of such patients as medical emergencies (akin to a combative or resp depressed head injured patient), requiring full monitoring, including
1:1 nursing by an acute care nurse
pulse, BP, ECG, RR, SpO2
waveform capnography
use of the Richmond-Agitation Sedation Score (RASS)
immediate access to O2, suction, airway equipment and difficult airway trolley
immediate access to skilled anaesthetic assistance
at least two IVs
consideration of safety for transport including maintenance of own airway vs ETT, and use of safety harness if not intubated
In particular, I would encourage rural doctors to be aware of the PSYCH RISK ASSESSMENT MATRIX (Casey Parker) and the use of KETAMINE for SEDATION and TRANSFER (Minh le Cong et al)
The Consensus Statement can be downloaded from the RFDS website here and I believe should be mandatory across rural SA hospitals.
If you are a rural doctor or nurse or paramedic with responsibility for these patients, please read the Consensus Statement and ensure follow the bulletpoints above.
Not all rural doctors use RASS or ETCO2 monitoring, and often such patients are nursed in a dark environment without immediate access to airway kit, O2, suction.
THINK OF MANAGEMENT OF SUCH PATIENTS AS SIMILAR TO THE MANAGEMENT OF PROCEDURAL SEDATION AS A MINIMUM
That it was not explicity referenced in the Coroner's report is a missed opportunity – hence this post.
ADDENDUM
Thanks to Minh le Cong who indicates a similar case from Western Australia. There are many valuable lessons from this case, including :
the value of regular audit of cases in rural hospitals (something I have never seen seen in CountryHealthSA),
the need for good-quality case notes,
problems of using Glasgow Coma Score rather than Richmond Agitation Sedation Score
early and structured use of titrated aliquots of agents to achieve controlled sedation, rather than repeated cycles of agitation requiring sedation in a small unit with limited staffing,
ownership of the management of such cases, in consultation with local and receiving facilities,
parallels with the need for expeditious transfer of such patients.
I've been pushing for local review of all retrieval cases. Such audit can help drive quality improvement in individual hospitals (not just clinical skills/knowledge, but also equipment needs and of course teamwork/human factors).
Similar audit of anaesthetic 'near misses' is practiced in some States (eg: Queensland rural GP-anaesthetists conduct quarterly teleconference audit facilitated by a FANZCA).
Quite why such processes do not exist in South Australia concerns me – indeed, the local lead for rural anaesthesia told me that "there's no need for audit – we already do this in response to coroner's cases".
That's a classic "wait until the horse has bolted before closing stable door" in my opinion!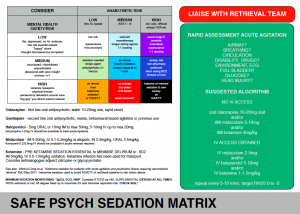 Both the SAFE PSYCH SEDATION MATRIX and RASS can be downloaded as PDFs
from the RURAL HOSPITAL CHECKLISTS or RERN ACTION CARDS links.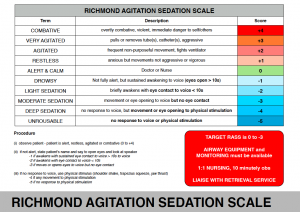 Consensus Statement – The Acutely Agitated Patient in a remote location can be found at http://healthprofessionals.flyingdoctor.org.au/clinical-resources/?q=cat103%7Cref%7Cformat