It's no secret that I am concerned with management of the difficult airway, especially as pertains to the rural/remote/austere context.  This may be either as a rural GP providing anaesthesia in the Operating Theatre, in the Emergency Department or at the roadside.  Whilst many of us learn and regularly upskill in anaesthesia via the comfortable environment of the OT (usually under the tutelage of a FANZCA), the reality is that rural practice is limited by lac of immediate backup and often a paucity of equipment.
Airway difficulty may be encountered unexpectedly in the OT, or be anticipated in the dynamic airway of a critically ill patient in the ED or prehospital environment
Back in 2012 I published on the availability of equipment to manage the difficult airway in rural Australia, driven by the publication of ANZCA PS56 "Guidelines on Equipment to Manage the Difficult Airway".  As a result, recommendations could be made regarding airway equipment in an austere environment, especially on a budget – this might include standard direct laryngoscopy, videolaryngoscopy, both standard LMA and an intubating LMA as well as equipment to manage the emergency surgical airway. Similar setups are found in some prehospital services, with the FastTrach iLMA being the standard 'go to' device for rescue intubation attempts.
So I was interested to see the 2015 update on management of unanticipated difficult intubation in adults from the UK Difficult Airway Society (shout out to them by the way – interested airway enthusiasts can join DAS for a nominal fee and have their say in future guideline development).
So – what's new in DAS 2015?
The 2015 Guideline can be accessed here. These guidelines are driven by published evidence where available; where evidence is lacking, is directed by expert opinion via DAS.  I think the paper is worth reading by ANY rural clinician, as well as those involved in airway management whether in prehospital, emergency department or operating theatre. Many of the topics discussed in FOAMed circles over the past few years are distilled into the DAS guidelines, finally.
Key features include :
planning for failed intubation in both routine intubation and RSI
extra emphasis on airway assessment including assessment of emergency surgical airway (ESA) or front-of-neck access (FONA)
preparation, positioning, pre-oxygenation, maintenance of oxygenation via apnoeic diffusion oxygenation/NODESAT and minimising repeated attempts causing trauma
importance of skills in both direct laryngoscopy and video-laryngoscopy for all anaesthetists
use of second-generation supraglottic airway devices (SAD) to maintain oxygenation & ventilation
importance of maintaining adequate muscle relaxation throughout difficult airway management, particularly to facilitate not only intubation attempts, but placement of SAD, face-mask ventilation and ESA/FONA.
emphasis on scalpel cricothyroidotomy as the preferred ESA/FONA technique over needle techniques.
It's particularly gratifying to see mention of cognitive aids for crisis management such as The Vortex, the technique of apnoeic diffusion oxygenation (NODESAT), use of rocuronium to give rapid onset of intubation conditions and to maintain adequate relaxation during subsequent airway management, as well as use of the laryngeal handshake' – all topics familiar to the FOAMed community.
"DAS make it explicit that adoption of guidelines and professional acceptance alone are insufficient – such techniques need to be practiced and understood by all members of the anaesthetic team"
On top of this, there is emphasis on the value of human factors, with this contributing to at least 40% of adverse outcomes identified in NAP4.  The new guidelines mention the impact of cognitive overload in a crisis, the need for structured communication tools such as PACE, the value of setting limits on intubation/SAD attempts, use of cognitive waypoints ("stop and think"), having a shared mental model and so on.  Again this is nothing new, but it is worth pause and consideration of how often we actually train together – many of the airway courses are aimed at the airway operator (typically a doctor) and it is actually quite rare for teams to train together for crisis, unless part of a high-functioning unit such as a retrieval service or forward-thinking ED or ICU.
"I would be interested to hear from rural doctors – how many of you have the chance to train together fro crisis management using ALL team members via in situ sim?"
DAS Airway Plans A-B-C-D
Full discussion is best left to the actual 2015 guideline published 10-11-15 in BJA.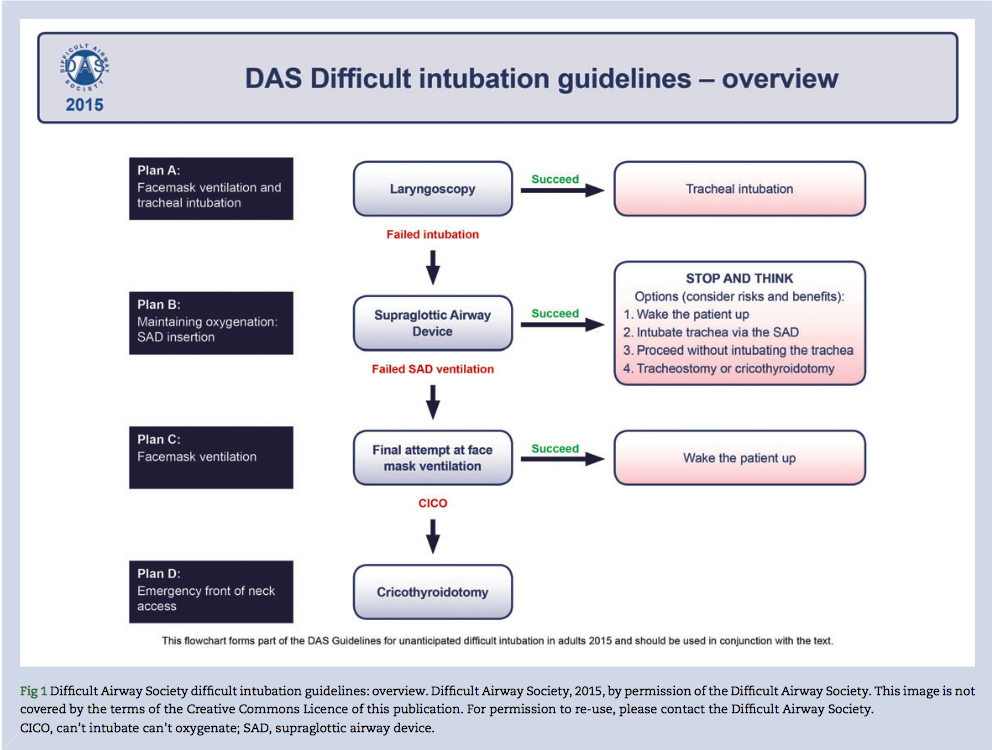 In brief the guidelines include:
PLAN A : Facemask Ventilation & Laryngoscopy
Importance of head-up positioning and ramping are highlighted
Preoxygenation for all patients; apnoeic diffusion oxygenation for high-risk patients
Role for VL in addition to DL recognised, with statement that "all anaesthetists should be skilled in use of a videolaryngoscope"
Cricoid pressure is stated as 'a standard component of RSI in the UK' and should be applied correctly (*)
Maximum of three attempts, changing something between attempts (a fourth attempt by more experienced colleague is included as permissable')
I won't bore you all with the nuances of different VL devices, suffice it to say that DAS suggests their use be familiar to anaesthesia providers. In rural, we are often limited by available funds, making a compromise in cost and function. Many devices give excellent views of the glottic opening, which does not always translate into effective ETT delivery unless trained and practiced repeatedly.
"I think DAS missed a trick here – they mention cricoid pressure rather than taking the opportunity to describe it correctly as cricoid force"
Application of cricoid pressure is stated as 'a standard component of RSI in the UK'. The 2015 DAS guidelines acknowledge that cricoid needs to be applied properly to be effective and that is often inexpertly applied, thus making mask ventilation, direct laryngoscopy and SAD insertion more difficult. There is no mention of accepted modifications to RSI, including omission of cricoid, as practiced elsewhere in the world and accepted by certain airway providers as acceptable practice in airway management of the critically ill.
If fails, pre-agreed plan to move swiftly to:
PLAN B : Maintaining Oxygenation : Supraglottic Airway Device (SAD) Insertion
Limiting insertion to three attempts, changing size/device
Cricoid pressure should be removed during SAD placement
Maintenance of oxygenation & ventilation
Successful placement of a SAD creates a cognitive waypoint to "stop and think"
All anaesthetists should be trained to use and have immediate access to second generation SADs
Subsequent options at the 'stop and think' stage may include :
awakening the patient if possible
make a further attempt at intubation via LMA s a conduit
continue anaesthesia on SAD without placement of an endotracheal tube
proceed directly to surgical airway
I think this is terribly exciting. First up, the DAS Guidelines make it explicit that we should be using second-generation supraglottic devices. I have reviewed some of these previously eg: Supreme & iGel in A Love Supreme and AirQ in Desert Island Airways.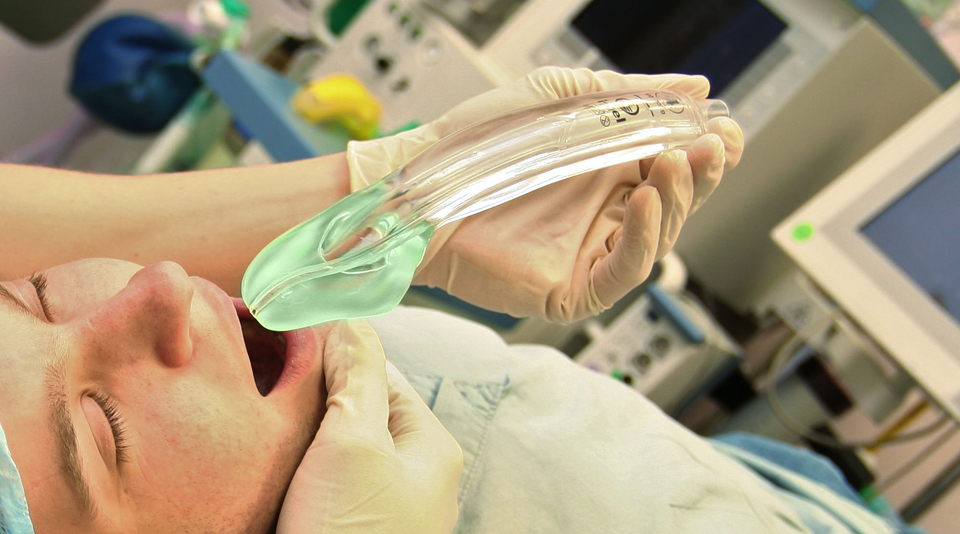 The ideal device is characterised by reliable first-time placement, high seal pressure, integral bite block, separation of respiratory and gastrointestinal tracts and compatibility with fibreoptic devices. The latter is important when considering a 'staged airway approach eg: placement of SAD in the field by trained EMS providers, allowing rapid intubation in the ED via FO using same SAD as a conduit.
"One could also consider the need for an integral bite block and lack of need for an inflatable cuff to be recommendations for a rescue SAD device"
The DAS algorithms previously advocated use of an intubating LMA to facilitate blind intubation as a rescue technique.  Many theatres, emergency department sand even retrieval services have relied upon the FastTrach device.  Whilst it has reportedly better blind intubation success than alternatives (eg: the Cook Gas Air-Q II device), I find the FastTrach to be bulky, expensive, fiddly to use unless specifically-trained. It also lacks a gastric drainage port – and whilst the device can be removed to leave an ETT in situ, this is a high-risk procedure which can result in inadvertent loss of the airway (for example, see the Gordon Ewing case).
In the past I have been a fan of the Air-Q device, mainly because it obviates the need for cuff inflation, has integral gastric drainage and is a great conduit for fibreoptic intubation, either by stylet or flexible scope. DAS acknowledge the many types of SADs on the market and make specific reference to the iGel, Proseal and Supreme LMAs as being supported in practice by large-scale longitudinal studies, literature reviews or meta-analyses.
"Is the FastTrach iLMA redundant under DAS 2015?"
One can argue the toss between iGel, Supreme and AirQ devices, but one thing seems clear from the 2015 DAS Guidelines – there is NO ROLE for blind intubation through an iLMA. Instead PLAN B necessitates use of a second generation SAD and pause to consider options as above (ie: awaken, place ETT, continue on SAD or perform ESA).
Most places where I have worked have kept the FastTrach as the accepted go to device, including in theatre, ED and in retrieval.  I was always puzzled by the inclusion of a single size 4 FastTrach in the intubation pack of South Australia's retrieval service – logic would dictate that a variety of sizes be carried, rather than rely on a single device. The lack of gastric drainage also irked me!
"Is there an excuse NOT to intubate using fibreoptic device via SAD as a conduit?"
But now the way forward is clear and appears supported by DAS 2015 – use a SAD for Plan B, and one which allows fibreoptic placement of an ETT over blind techniques which are "not recommended".  Logically this could be achieved via carrying a variety of second generation SADs as both rescue devices and as conduits for fibreoptic intubation – to my mind this could be via either the iGel, the Supreme or the AirQ…but of course now requires consideration of training and skills maintenance with a fibreoptic device.  Whilst their availability is taken as a given in DAS, the reality is that very few rural doctors, EDs or even some prehospital providers will have access to what was traditionally expensive equipment.  Of course there are low-cost solutions, such as the use of the Levitan intubating stylet or the AmbuAscope.
I think that these devices will see renewed interest and form part of a robust airway plan for use in rural and austere environments.  Whilst AFOI techniques are hard to learn and maintain for occasional intubators, the placement of an ETT via SAD as conduit using eg: the Ambu Ascope is releatively straightforward and affordable even for cash-strapped rural hospitals.
For me the equation seems simple : second generation SAD + fibreoptic = robust safety
Here's a video of my mate Geoff Healy at SydneyHEMS demonstrating the AmbuAscope for both awake fibreoptic intubation and via the iGel SAD as a robust technique in a mature and innovative prehospital service.  These scopes are affordable and fairly straightforward to use when combined with the SAD as conduit technique. I think every rural hospital and ED should consider it to allow staged airway management in case of difficulty.
Thus I think it may be time to retire the FastTrach for blind intubation and switch to use of a SAD-fibreoptic combo.  But promise me one thing – don't throw out the Parker tip ETTs that come packed with the FastTrach – they are great for avoiding hangup on the right arytenoid!
PLAN C : Facemask ventilation (FMV)
If effective ventilation has not been established after three SAD insertion attempts, then Plan C should be enacted.  By this stage Plans A & B have failed and the only remaining options are to awaken the patient with full reversal of neuromuscular blockade or to continue and perform an emergency surgical airway with ongoing paralysis.
Plan D : Emergency front-of-neck access (FONA)
In the past, various techniques for 'needle' vs 'knife' have been advocated. Most of us in Australia are familiar with the excellent work by Andy Heard and colleagues in WA, describing needle, knife and open techniques for cricothyroidotomy (see links at youtube channel here). Even in the post NAP4 era, it was not uncommon debate to hear experienced anaesthetists express a preference for needle cricothyroidotomy and a relaiance on the surgeon to perform a surgical airway with scalpel.
DAS 2015 make it clear that the scalpel technique is an expected skill of all anaesthetists, which must be learned and have regular training to avoid skill fade.
The laryngeal handshake is a technique I have been teaching on various airway courses & workshops, as well as on the ETMcourse, after being shown by Levitan on a cadaver course. It is simple to teach and reliable. Thus it is pleasing to see DAS 2015 make explicit this technique of identification of the cricothyroid membrane and subsequent entry.
DAS 2015 offer two options for FONA :
identifiable anatomy – stab, twist, bougie, tube
if unsuccessful or no identifiable anatomy – scalpel, finger, bougie, tube
To be fair, DAS 2015 does mention cannula techniques as options, but maintains that surgical cricothyroidotomy s both faster and more reliable – and again, emphasises that the scalpel technique is an expected skill of all anaesthetists, which must be learned and have regular training to avoid skill fade.
As an added extra, mention is made of the use of ultrasound as part of airway evaluation, with recommendation that training in it's use is recommended for anaesthetists. I have certainly found it useful for identification of the trachea and cricothyroid membrane in difficult anatomy where time permits.
Summary
So, a quick rattle through the DAS 2015 guidelines for management on unanticipated difficult intubation (for both routine and rapid sequence intubation) in adults.
What does this mean for rural clinicians or those practicing in an austere environment?  Perhaps no change from what many of us have been advocating for several years, namely
be prepared for unexpected difficult airway management
understand the importantce of human factors in crisis management and train accordingly
use an agreed plan, articulated to team members regularly practiced with in situ sim
be competent in both direct and videolaryngoscopy techniques
minimise repeated attempts at intubation and SAD insertion; make FIRST attempt the BEST attempt using appropriate positioning (head up, ramping) and use apnoeic diffusion oxygenation in high-risk patients
use a second generation supraglottic airway device
maintenance of oxygenation and ventilation via SAD is a cognitive way point for the team to 'stop and think' before proceeding further
blind intubation through an iLMA is no longer recommended; rather, place a SAD with integral gastric drainage and use as a conduit to intubate using a fibreoptic device
maintenance of paralysis is essential to optimise intubation, SAD insertion, face-mask ventilation and ESA/FONA
use of a scalpel to perform surgical cricothyroidotomy is an essential skill for anaesthetists and should be practiced regularly
A lot of this is covered in the 'Airways on a Budget' talk for rural doctors from a few years back
https://vimeo.com/51654548
There are plenty of other pearls in the 2015 Guidelines – have a browse and think how you will implement in your practice. We'll be discussing some of this in the forthcoming Critically Ill Airway (CIA) course hosted by Chris Nickson at The Alfred in December.  I will be one of the Faculty for what promises to be an interesting mix of task-trainign and hands on in situ simulation.
Game on…
References
Chrimes N & Fritz P The Vortex Approach Access here
Frerk et al (2015) Difficult Airway Society 2015 guidelines for management of unanticipated difficult intubation in adults British Journal of Anaesthesia doi 10.1093/bja/aev371
Leeuwenburg T (2015) Airway management of the critically ill patient: accepted modifications ot traditional rapid sequence induction & intubation Critical Care Horizons 1 Access here
Leeuwenburg T (2012) Access to difficult airway equipment & training for rural GP-anaesthetists in Australia Rural & Remote Health Access here
Sydney HEMS Fibreoptic Intubation using iGel and AmbuAscope – trainign video Access here
Weingart S. & Levitan R. (2011) Preoxygenation and prevention of desaturation during emergency airway management Annals of Emergency Medicine Access here
Blog Posts
KIDOCs Airway Classics – A Love Supreme
KIDOCS Desert Island Airways