Safety is paramount in anaesthesia, wherever it is being performed (in theatre, in ED or at the roadside). Many of the non-anaesthetists joke about the apparent simplicity of induction agents in an RSI, without appreciating the nuances.
RSI is easy!
inject the big syringe first – induction
then the little syringe – paralysis
By far the most commonly used induction agent in Australia is propofol, although in the ED and prehospital environment many of us prefer ketamine, for reasons as made clear in the infamous 'propofol assassins' rant from Cliff Reid.  Whilst somewhat tongue-in-cheek, it does make the point that a nuanced approach to induction agent is sensible, voiding the potentially catastrophic drop in blood pressure for critically unwell patients by avoiding agents and doses commonly used in theatre.  Similarly paralysis for RSI is traditionally performed with suxamethonium, although there is an increasing appreciation of the use of other agents such as rocuronium to maintain adequate paralysis throughout stages of difficult airway plans.
Drug safety
Like many other clinicians, I meticulusly draw my anaesthetic drugs in a standardised manner – big 20ml syringe for induction agent, 5ml syringe for midazolam, 2ml syringe for fentanyl, 5ml red-barelled syringe for neuromuscular blocker. These and all other syringes are labelled according to ISO standards as set out in ISO 26825:2008 – but I like to think that if the lights went out, I could still be sure that the big syringe was my induction agent….
There has been a lot of effort into safety in anaesthesia – probably the most important is the understanding and training of the impact of human factors in crisis management.  Checklists for both crisis management and routine (such as the WHO Surgery Safety Checklist) have their role, although all too often such tools become a mere tick-box exercise with lack of training or deviation subverting the aims of such aids.
In terms of drug labelling, there is still a long way to go.  The efforts of the international team at EZdrugID are worthy of praise – they are mounting a campaign to reduce avoidable drug error by exposing 'lookalike' drugs and campaigning for an international standard on such packaging. Check them out at the website EZdrugID.org or on Twitter via #EZdrugID.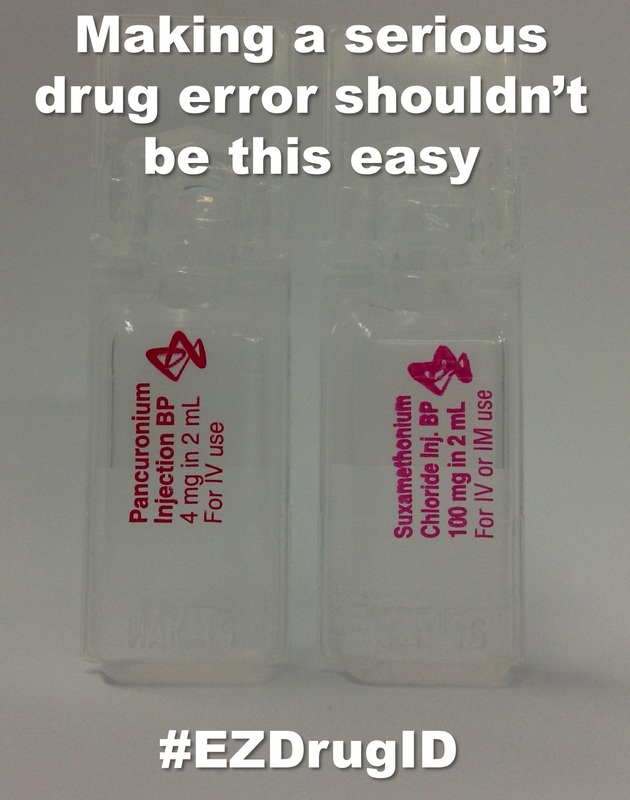 So this week I was delighted to receive a set of sample 'rainbow' trays from UK company UVAMed.  These are a simple design – a plastic base tray which is colour coded, to which disposable plastic insert tray sets can be placed and disposed of after each case.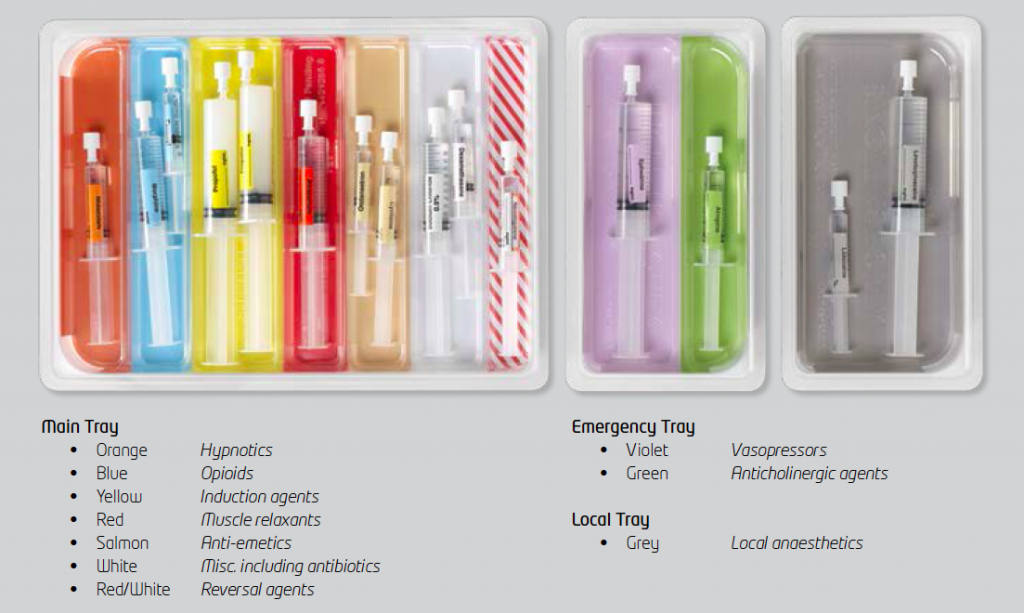 I had a fiddle with them today in theatre – they are quite straightforward and the OCD in me liked the fact that ISO-labelled colour-coded syringes could be placed in a standardised layout in coloured trays. They use the AAGBI & RCoA standards.
It's taken my standard anaesthetic tray from this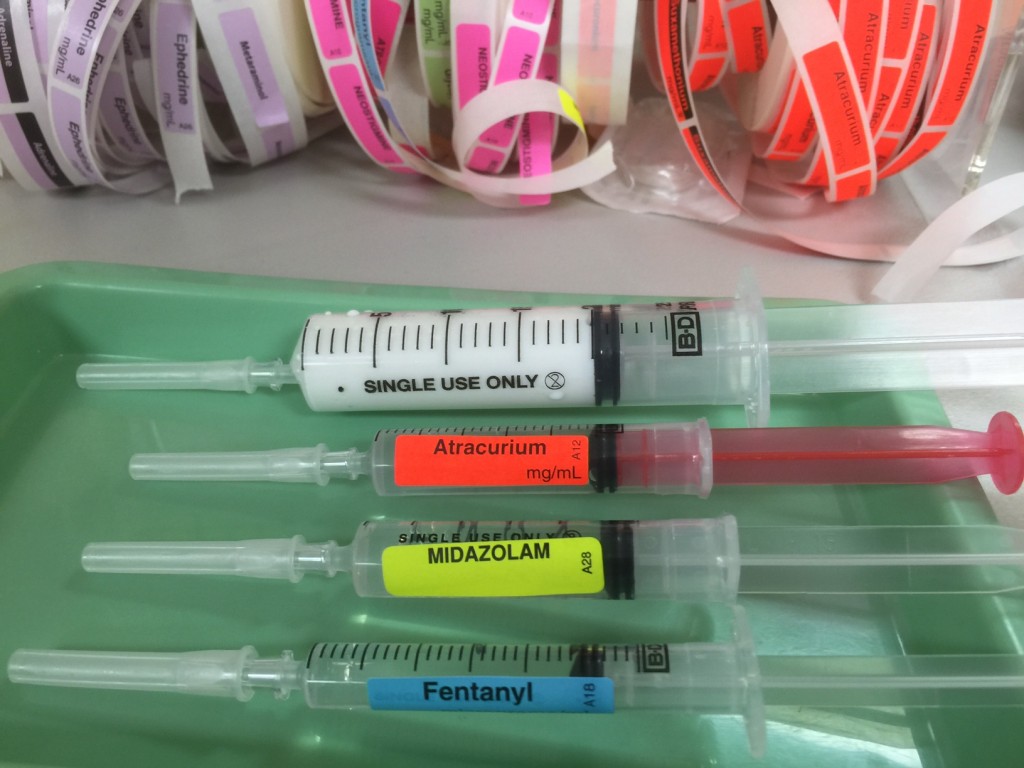 to this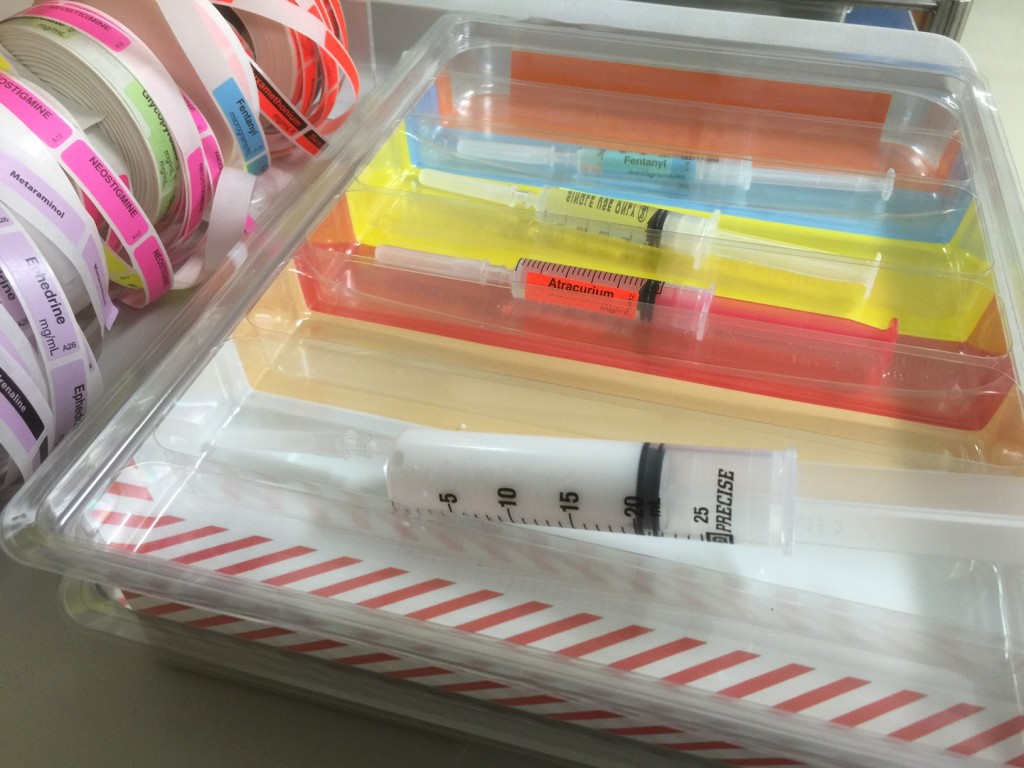 The trays are stackable – with a reusable (up to 100x) coloured tray into which a single-use palstic insret tray fits. There are three trays which can either be used individually, laid out on the anaesthetic trolley or stacked.
The Main Tray is for :
hypnotics
opioids
induction agents
muscle relaxants
anti-emetics
miscellanous (eg antibiotics, oxytocics etc)
reversal agents
induction agent
The Emergency Tray is for :
vasopressors
anticholinergics
The Local Tray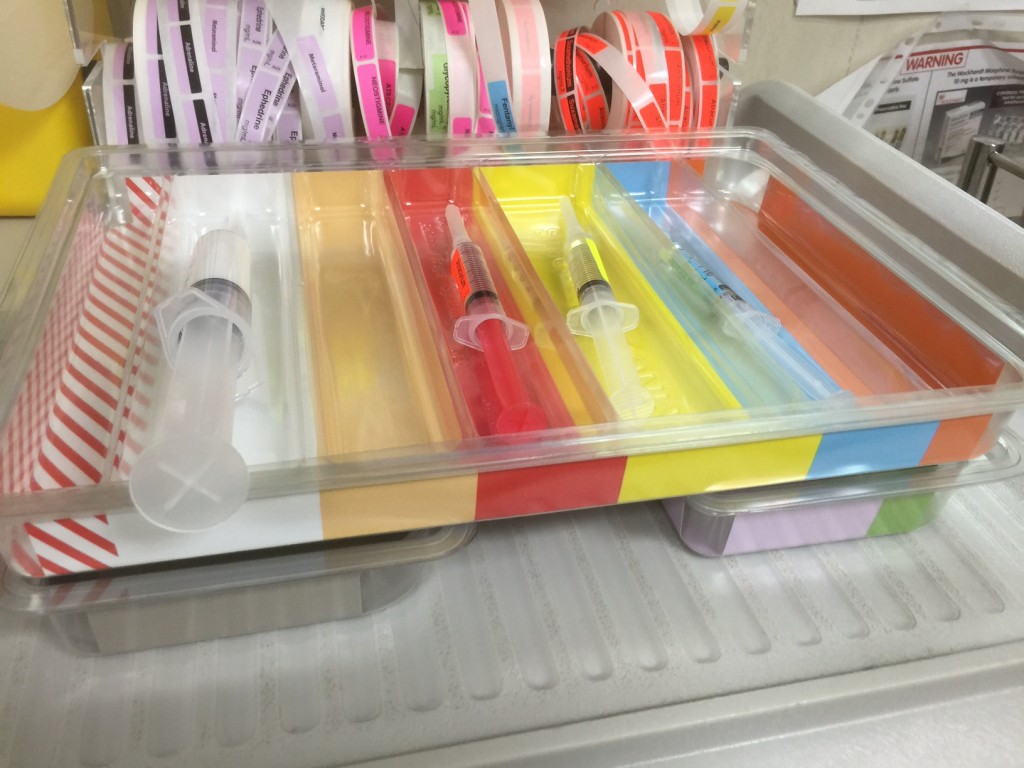 Sadly the greenie in me bemoans the wastage of plastic by use of such disposable trays.  I did kind of wonder if I could fashion my own standardised tray using an off-the-shelf product (such as a cutlery drawer divider, subsequently painted).  But a strength of the 'rainbow' tray is the modular design, the fact that it allows standardisation across an institution and hopefully goes some way to improving drug safety via avoidable error.
Of course, there is always the potential for INCREASED error, eg an antibiotic syringe, even correctly labelled, if placed in the wrong tray could inadvertently be given due to 'cognitive forcing' by the tray colour.  But I would imagine that if use was standardised across an institution and anaesthetists were diligent in both using the rainbow tray for standardised layout as well as the always present requirement to carefully check each drug before injecting, then inadvertent drug administration could be reduced.
The concept is similar to the colour-coded standard panels in the prehospital packs from Neann-RAPP in Australia; they can help locate agents in a crisis, but of course each syringe or ampoule still needs to be checked properly before administration.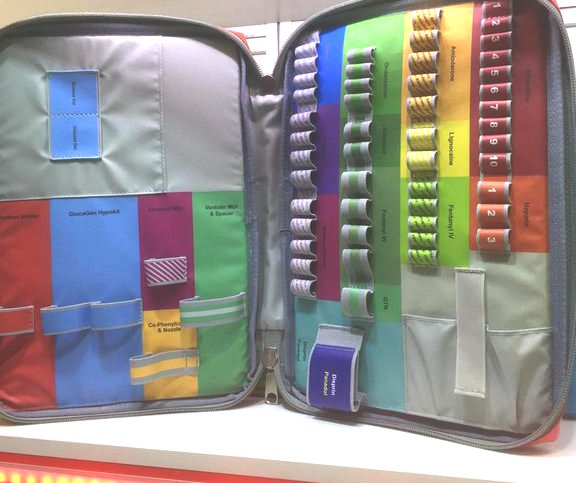 As far as I am aware the Rainbow trays are not (yet) available in Australia. I would be interested to hear others thoughts on such colour-coding – and particularly if anyone is already doing similar with a 'home made' solution (there MUST be an off the shelf solution)
References
Currie M,Mackay P, Magan C, et al.  The 'wrong drug' problem in anaesthesia: an analysis of 2000 incident reports. Anaesthesia and Intensive Care  1993; 21: 596–601.
Morris GP, Morris RW. Anaesthesia and fatigue: an analysis of the first 10 years of the Australian incident monitoring study 1987–97. Anaesthesia and Intensive Care  2000; 28: 300–4
EZdrugID Campaign – access via EZdrugID.org
Propofol Assassins rant from Cliff Reid – click HERE to listen
Rainbow Trays – UVAMed
[NB: I received these trays as a free demo courtesy of UVAMed – I receive no financial benefit nor other reward for mentioning them on this blog!]