I've been the ICU reg, critical of ED referrals. I've been the ED reg, critical of prehospital care and low quality primary care referrals I've been the primary care doc, frustrated with "GP to chase…" letters from tertiary centres and the lack of information in discharge summaries (and sometimes the lack of a summary!)
This is of course silo thinking – we only see a minority of 'misses', not the 'saves'. It's easy to fall into the trap of inter-specialty bashing when we perceive that the baton is dropped. But sometimes we have to speak up.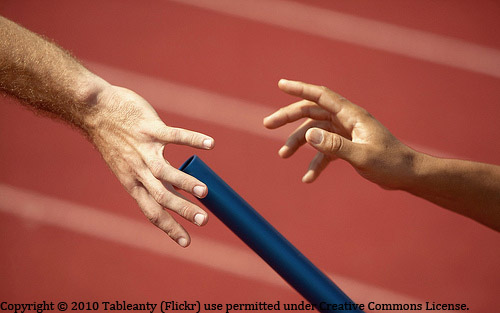 I was amazed to receive a discharge summary this week with the disclaimer "This summary was prepared by a clinician who had no involvement in the care of this patient."
Speaking to my junior colleagues, they regaled me with tales of discharge summary 'parties' – a group of medical students, interns and RMOs being rostered on after hours, fed with party pizzas and being told by their bosses to wade through piles of outstanding discharge summaries for patients cared for in the Big Teaching Hospital.
Is it acceptable that discharge summaries are completed days or weeks after the patient has been treated? And is it not a serious safety issue if they are being done as an almost after thought, often by juniors not involved in care?
So – what can be done?
"If it's YOUR name at the head of the bed, you are responsible for all aspects of that patient's care"
Kudos to a colleague who frames this well.  Rather than think of discharge summaries as an afterthought, often delegated to the most junior member of the team, we should think of them as clinical handovers. There are specific standards for clinical handover.  It's useful to consider them and reflect on how well current practices measure up.
Here is a stock response he suggests when receiving an inadequate discharge summary :
Write to the patient safety officer explaining that said clinic is in breach of ACQSHC Standard 6 for clinical handover and places the patient at significant risk.
Suggest that they notify a "near-miss" to the hospital's insurer and of course, "reflect" on their approach to the Standard, remedy the situation, re-train the staff and work towards "patient-centred care" (which is probably in their strategic plan anyway).
Request a response in writing and suggest they conduct an audit of, say, 100 discharge summaries completed by clinicians not involved in that patients care."
Set a period of 4 weeks for them to compete the audit cycle and report back.  
If no response, refer them to the ACQSHC."
That's fighting talk.  I wonder how my colleagues in tertiary hospitals view this issue?  Is it acceptable to delegate the writing of a discharge summary?  Should specialty teams not ensure an effective clinical handover back to primary care?
I understand we are all busy and that delegation of tasks is required for both training and practical purposes.  But quality control is an issue – and if the specialist team is too busy to provide a handover, then the system is broken and presents a foreseeable risk…
I recognise that primary care is not blameless in this.  There are sadly still a minority of "Please see and do the needful…" type referrals to ED and my impression is that the quality in primary care is extremely heterogeneous….something many of us are keen to address.
Comments welcome…
Ref
KIDocs – "GP To Chase…"
Australian Commission on Safety & Quality in HealthCare – Standard 6: Clinical Handover http://www.safetyandquality.gov.au/wp-content/uploads/2012/10/Standard6_Oct_2012_WEB.pdf