Come the end of the day, the last thing I want to do is talk about medicine. I generally shun TV programs about emergency…but must admit that I have a few 'medical story' books accumulating on the shelf.
Last week I received a copy of ACEM's "Emergency: real stories from Australia's ED doctors" – and I am glad I did. It's been a riveting read – short, sharp tales from the roadside, through the tertiary ED and to the Outback
"The stories we've collected here come from emergency physicians working all over Australia, from small country EDs to big tertiary hospitals like the one I work at. They could have happened anywhere, because all EDs are open 24/7 and are staffed by doctors and nurses who strive to provide their patients with the best possible care"
Dr Simon Judkins, Editor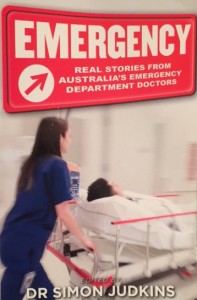 These stories (most 2-3 pages long) will enthral you and it's easy to empathise with both patients and clinicians. Buy the book. You won't be disappointed.
Available from ACEM (Australian College of Emergency Medicine)
Disclaimer – I received my copy as a gift from a colleague and have no financial interest in the sales of this book. It's just a good read!