I was a little apprehensive about undergoing HUET training, mostly due to some gentle winding up by the likes of Minh le Cong in Queensland & some of the GSA-HEMS mob. Comments about eliciting cremasteric reflexes, sinus douching and so on seemed to be setting the scene – made worse as undertaking HUET in the middle of Adelaide winter.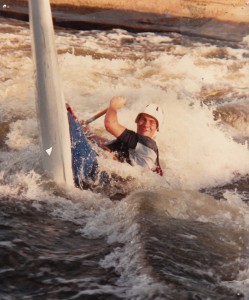 Actually, I don't know why I was concerned about being dunked. 'Back in the day' I was a keen (and expert) whitewater canoeist. I rose through the ranks in both kayak and canadian classes, competing regularly at premier level in slalom events in the UK and representing my country overseas. Being flipped over in the dark whilst training in the ice cold waters of the Thames weirs or on the grade IV rapids of Scottish rivers was no problem.
Competing at that level of performance, the difference between boat-body-blade was indiscernible, with movements practiced and fluid such that one could quickly (<1 second) roll up from an inverted position with barely an interruption to forward paddling movement.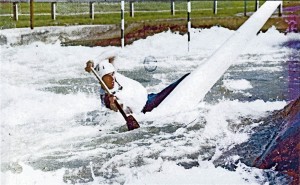 But that was a long time ago. Being stuck inside a metal airframe and dunked upside down is completely different. And unlike a low volume carbon-kevlar canoe, there's no element of control when a helicopter ditches…
Training took place at the heated (27 degrees, thank you) pool at the Adelaide Dive Centre, under the expert guidance of the team from RHO aviation.
Why bother with HUET?
Brian Burns of Sydney HEMS tweeted this slide today from the concordant HUET exercise in Sydney, demonstrating why it is vital that anyone being transported by a helicopter platform knows what to do in the event of ditching in water.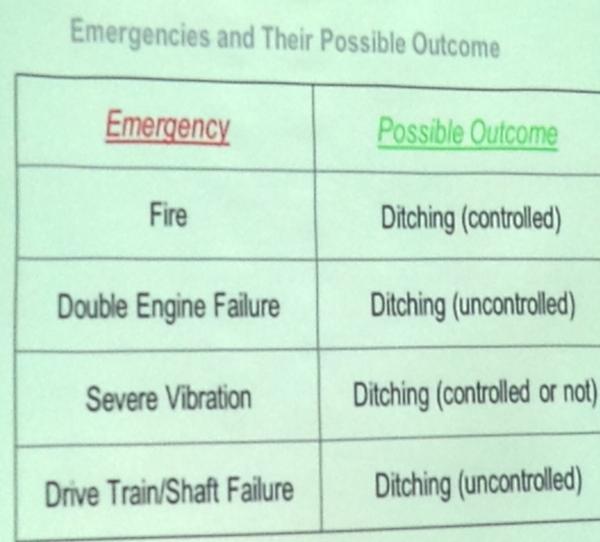 Whilst it is possible to perform a controlled ditch on water, this will be subject to water conditions, aircraft performance and so on. Some helicopters have floats – but helicopters are inherently top heavy and are highly likely to invert. Or be attacked by sharks as in this clip below from Jaws 2 :
That said, helicopter transfer is reasonably safe. The most pertinent reference that I could find dates back almost 10 years and is from Dave Cooksley and (then registrar) Jim Holland when in Townsville, both nice FACEM chaps. However problems can occur and it makes sense to be prepared. Helicopter Underwater Escape Training (HUET) is designed to improve the chances of surviving a ditching episode.
As can be seen from the footage below, an uncontrolled ditch in water poses risks of disorientation, impact with unsecured equipment and debris from the impact. Add to this the confusing elements of inversion, cold water and poor/zero visibility, and it is easy to see why occupants can become disorientated and fail to survive. Add to this the myriad of different harness & door release mechanisms (over 35 of the latter, with no industry-standard!). HUET training is designed to increase chances of survival in an unlikely emergency.
US-Navy CH-46 Sea Knight crashes while landing on USNS Pecos
https://www.youtube.com/watch?v=CdlqCeQfGmo
Controlled ditching onto water, then disaster as rotor blades enter water
https://www.youtube.com/watch?v=2NiPbQVQrC4
So what did we learn?
The facilitators from RHO aviation were really good, working through educational material in a solid, stepwise manner with a clear goal (lessons there for meducationalists). They emphasised the importance of a pre-flight safety brief :
seat belts
loose items (secured)
lifejackets
identifiying primary & secondary exits, with reference points
It is no secret that I am a fan of checklists in a crisis – when there is time. But the regular performance of a safety brief reinforces safety, mitigates against complacency and is something that I try to instil into the resus bay of my local hospital when awaiting a patient – checkling O2, suction, confirming presence of airway and crash carts, setting up vent and anticipating likely clinical needs…as well as backup plans. Cliff Reid has talked about the value of having a resus room safety officer….perhaps it's not such a bad idea, especially in EDs where the resus is performed by a flash team (members who may never have worked together, or are used to another ED's equipment/procedures). Minh le Cong (who never sleeps) has proposed a pre-ED RSI safety brief, albeit tongue-in-cheek.
Once the aircraft inverts, the importance of WAITING for cessation of violent movement was emphasised (to reduce risk of disorientation, injury), then calm performance of a well-rehearsed sequence :
orientate (use one hand to anchor as a fixed reference eg: underside of seat, with inboard hand)
locate (primary exit, use body movement eg knee or shoulder to locate door, then use outboard hand to locate exit release)
release (once exit open, keep outboard hand fixed on frame and then release inboard hand to undo safety harness)
vacate (use a low profile, pull inboard hand to join outboard hand at exit & pull head through – body will follow)
inflate (clear the surface of debris and inflate lifejacket if safe & appropriate to do so)
It was certainly easiest to perform this drill with eyes shut, avoiding the potential added disorientation of visual cues whilst inverted. Obviously an emergency ditching is a high stress environment – there will be a catecholamine surge and removing factors likely to add to panic is sensible
What's the parallel in resus? There are probably a few. I was immediately reminded of similarity with CICO crisis training. I've had the misfortune of doing a few of these in real life, and have learned (by hard experience) to perform surgical airways as a tactile procedure (scalpel-finger-[bougie]-tube). But body mechanics are important in other things we do – threading a catheter onto a seldinger wire (use palmar aspect of both wrists to form a stable bridge, giving fine motor control) or effective laryngoscopy (understanding different mechanics of Mac 3 vs 4, elbow and wrist position to maximise force – a plug here for Rich Levitan's airway course which certainly helped my airway technique).
Here's a demo of the HUET in action – experimental test crash dummy Dr Francis Lockie uses his secondary exit, as the primary exit is blocked.
http://vimeo.com/103113029
In summary
Despite the 'wind up' about HUET, I thought it was a well run course, delivered exactly what it was supposed to and has given a structure to dealing with a ditching crisis.
Could such lessons be applied to medicine? Absolutely – building muscle memory, relying on simple drills and regular sim are key.