It's pretty obvious that I see the benefit of FOAMed for rural doctors as in the ability to ensure rapid knowledge translation, particularly in fast-moving fields such as emergency medicine. Although the work of rural docs encompasses predominantly primary care, our work intersects with emergency medicine when on call for out small rural hospitals…and of course some practice obstetrics, anaesthetics or surgery.
I am keen to apply best evidence to care of the critical patient; caring for these patients is something that rural doctors do relatively infrequently and it can be hard to maintain both skills and knowledge. There are some rural doctors with high end skills (particularly those who practice procedural medicine) – but such work may be very much out of the comfort zone for some doctors working in the country.
It's very easy to fall into the trap of criticising patient management by others – we've all seen (or worse still, been part of) the 'ICU-puts-down-ED-management-which-puts-down -primary-care-failings'. It's easy tribalism. I've blogged about this before in the "Be a ZERO not a HERO" post.
Anyone who's seen the movie 'Trainspotting' will understand this spoof EM leaflet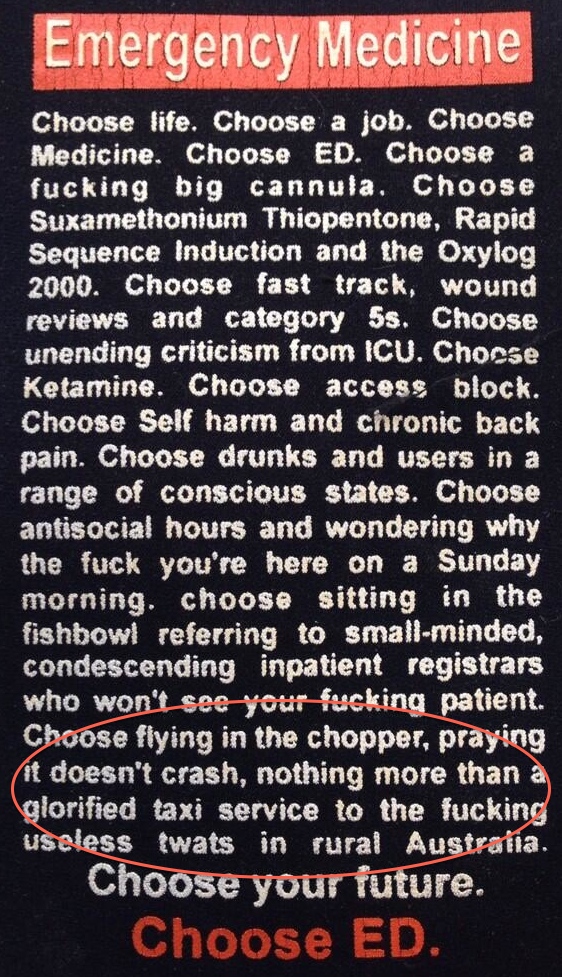 Whilst there is no shortage of muppetry across disciplines, I am more interested in ways to improve delivery of care in rural Australia, despite the problems of regular skills maintenance, relative infrequency, staffing, equipment and so on. Less criticism and tribalism, more solutions…
FOAMed is one way of helping to rural doctors to avoid being the 'weak link' in both EM as well as other areas of medicine. Having excellent support (iCCNet, medSTAR retrieval etc) is essential – but I think it behoves rural docs to avoid a therapeutic vacuum, even whilst awaiting the retrieval 'cavalry' to arrive. To whit : doing the simple things, well. Training for the occasional emergency. Using appropriate cognitive aids (action cards, checklists etc). Understanding the value of regular in situ sim-training with all players (doctors, nurses, admin volunteer ambulance officers etc) involved. Critical illness may be infrequent – all the better to be prepared.
Time to learn from the experts…
With this in mind, I am taking 6 months off to work as a retrieval clinician.  MedSTAR, South Australia's retrieval service have very kindly offered this opportunity and I look forward to soaking up as much knowledge and skills as I can in the time.
Whilst it's a bit of a jolt (and pay cut!) to move from my own private practice as a rural doctor to a salaried role, I reckon the experience gained will be worth it…
Learning from a high-performance organisation like medSTAR should have flow on benefits to delivery of care in the bush. So I need to get out and learn more…and there is no doubt in my mind that I have lots to learn from the experts in delivering critical care to rural South Australians.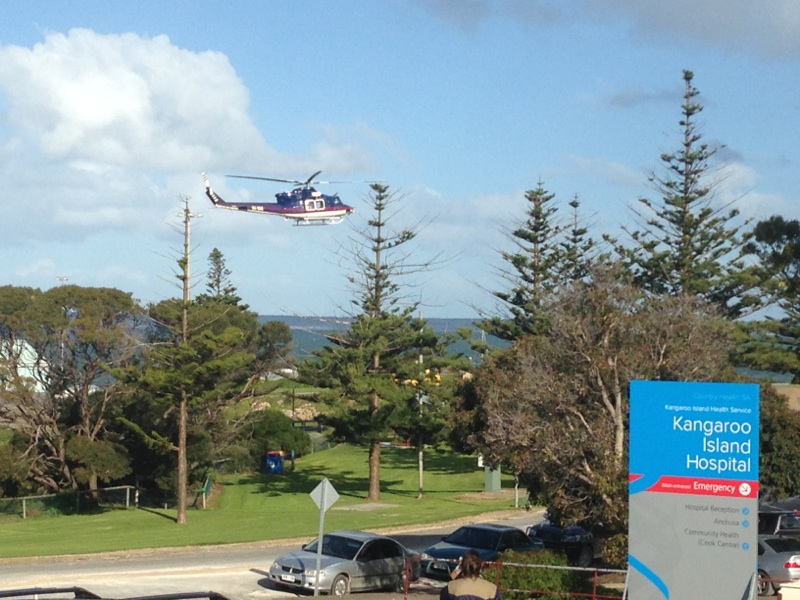 In keeping with SA Health's social media policy, I won't be describing any of the cases I am involved with during this time (not that I'd discuss any case on this site, other than 'hypotheticals' for education purposes)
There may be an occasional sporadic post on clinical topics of interest to rural clinicians, but I do not expect to post much over the next six months. Ditto use of Twitter under the @KangarooBeach handle, unless appropirate.
So … if you see me in your ED (whether rural or metro) please take time to say "G'day"…
Meanwhile I've got HUET training to look forward to….
Safety of Helicopter Aeromedical Transport in Australia : a retrospective study