So I was grinning from ear-to-ear when I received an airmail envelope from the UK – inside was a message. No name, just a card. UK-stamp, sent from London…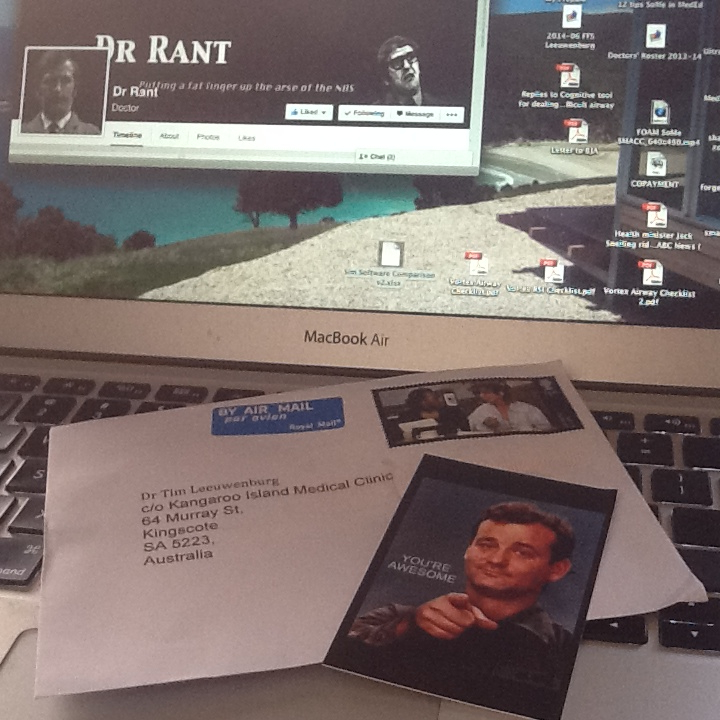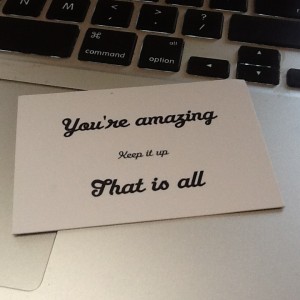 As far as I can gather, many other clinicians around the globe have received one of these – mostly amongst the EM & Crit Care community.
So far no-one has owned up to this delightful surprise.
I'm pretty sure plenty of other clinicians have received one of these little boosters
If you have, don't be shy – send a photo for the collage
Of course there are rumours – Rob Rogers (@EM_Educator) showed a slide at smaccGOLD of cards given out at Starbucks coffee with a similar message (I think it was in the 'Get Creative' workshop I attended).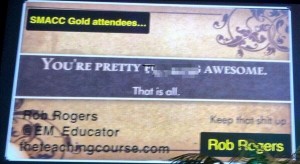 So it is not a huge leap to assume it was one of the smacc attendees…most likely one who lives or has been in the UK recently. I have my theory as to the identity – more theories abound in the twittersphere…
No matter who sent these cards (and I thank you for mine), it was a lovely gesture of camerarderie and a nice little morale booster.
"I kind of don't want to know who's sending them. Anonymity is part of the kindness"
Jesse Spurr @Inject_Orange
Which makes me wonder – how often do we we acknowledge & say 'thank you' for the efforts of others in our work? One of the earliest lessons I learned as an intern (or housedog in the UK), was to befriend the porters, the ladies in the hospital shop, the cleaners, laboratory, admin and nursing staff. We talk about 'making things happen' in emergency medicine – wise clinicians realise that our efforts in the resus room require the support of a whole raft of people.
Similarly in the FOAMed community, I am grateful for the help I have had with my learning and professional development. This is delivered via inspirational blogs, listening to inspirational speakers, lovingly-crafted talks made available for free download – and supported by ongoing global 'corridor conversations' with like-minded folk through social media.
As much as I have been supported by this, I try to pay back – this week has been notable by a collaborative review of sim apps, a to-&-fro exchange on refinements to an exciting new cognitive aid from an anaesthetic colleague, getting a letter in the British Journal of Anaesthesia and mentoring an EM trainee who was inspired by my talk at smaccGOLD and wishes to implement an RSI checklist in his own organisation.
This is what I love about the FOAMed ethos – the willing sharing of ideas and the ever present enthusiasm to 'pay on' the meducational love within the FOAMed community
Already the offers of a shared beer and catch up are trickling in for smaccUS in Chicago.  Due to the expected numbers of attendees and the need to ensure a truly top shelf event surpassing even smacc13 and smaccGOLD, the dates have been pushed back to June 23-26 2015. Read about the reasons for the SMACC 2015 move to June.
So – to you all – thank you
You're awesome
Keep it up!
I am working on a small surprise for colleagues in the FOAMed community
Catch up with me in Chicago for a special gift