Wondered what all the fuss is about regarding smacc, the critical care conference held in Sydney 2013 (#smacc2013), Gold Coast 2014 (#smaccGOLD) and due again in June 2015 in Chicago (#smaccUS)?
It sure is a great conference, full of cutting edge resuscitation and critical care, along with a dollop of educational subversion, innovation and just plain good fun. The content is relevant to any who care for critical patients – not just intensivists, but ED docs, rural clinicians, paramedics, nurses, students. No hierarchy, just quality meducation and passion.
If you haven't yet considered attending, check out the smacc content online – in the true spirit of FOAMed, the content from smacc is available online as podcasts, downloadable slidesets and videos.
You can access the videos via the VIMEO channel HERE – or if you prefer to listen as you run, drive, walk, shovel snow or laze on a beach – you can get the audio podcast version via iTunes HERE.
Content is also available via RSS feeds from various affiliated websites – try the excellent Intensive Care Network (ICN), PreHospital&RetrievalMedicine (PHARM), RuralDoctorsnet (RDN) and of course LifeIntheFastLane (LITFL).
Equipment Videos Online
To continue the theme of a gift that keeps on giving, the EVO competition was announced today. The premise is simple – get together a team (can be from 1 to 5 members) and create a short (< 5 mins) video to showcase a piece of equipment relevant to critical care. It can be a 'how to use', a 'how to troubleshoot' or even a 'how to improvise'.
Instructions are HERE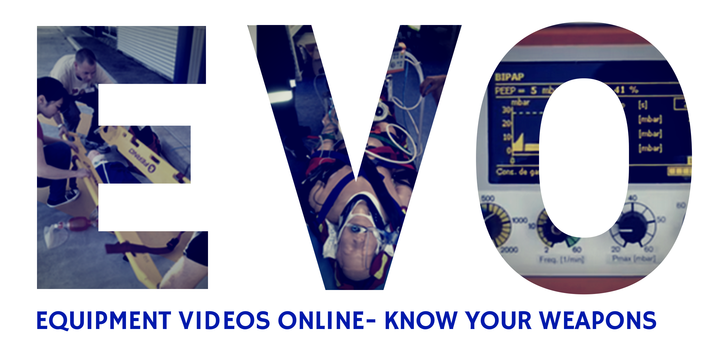 Why bother? Well, each month a winner will be announced – from 1 Aug 2014 through to 1 June 2015, a few weeks before smaccUS. And the prize each month? A ticket to smacc!
This is genius – not only does this encourage smacc participation – it also generates more quality FOAMed content. I am looking forward to seeing the videos as they come online.
This is the very essence of FOAMed – generation of quality educational material, available to all. The EVO competition is one way to achieve this. So get your video kit out, get a few mates and shoot a quick video for EVO.
If you're looking for inspiration, then there's plenty out there. I've got a few short videos in the '50 Shades of Brown' section on KIDocs
https://vimeo.com/59608480
The Australian College of Rural & Remote Medicine ran a similar competition last year with their #JAMIT series (just a minute instant tutorial) – here's one from Minh on setting up a quick n dirty adrenaline infusion.
So come on – I'm looking forward to seeing some of the tips n tricks out there from the FOAMed world.
Oh – and if anyone has already made a short video on troubleshooting the Oxylog 2000+ for the 'occasional user', do me a favour and bung up online – it's the workhorse of rural EDs here in Australia and I haven't (yet) got around to doing this. Beat me to it!