We're all familiar with the parable of the Good Samaritan from Old Testament times.  Regardless of religious affiliation, it's a positive affirmation of the fact that the vast majority of humans are prepared to help another in times of need.
Of course rural folk are used to this.  One of the things I love about living in a small rural community is the fact that we're 'all in this together' and folk are prepared to help each other out.
In the most extreme case, imagine the case of a sudden cardiac death in the community.  Urgent help is needed.. every minute counts!
The HeartSAFE programme
The past two years have been busy for the small team at HeartSafeKI.  We've trained community members how to perform CPR and use an Automatic External Defibrillator (AED).  We've also gathered support from community groups such as Lions, CWA, Sports Clubs, Progress Associations and a few small business operators.
The end-result is we now have over 10% of the island trained and a network of Public Access Defibrillators, available in the event of a sudden cardiac death.  As such Kangaroo Island is now Australia's first designated 'HeartSafe' community joining the international collaborative of HeartSAFE communities.
The next phase of this programme is to ensure people are aware of their nearest defibrillator and to utilise the help of community responders.
Imagine the situation.  Someone collapses in the shop or house next door.  Would you even know about it?  Probably not, until you heard the ambulance arrive, which is likely to be many minutes later.  This is the real danger, despite having many people trained in CPR.  If only there was a way to alert trained individuals to a nearby incident!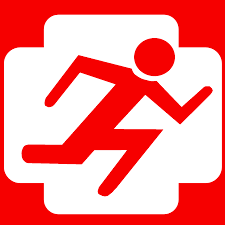 Introducing smartphone technology & GoodSAM
That's where the Good SAM App comes in – a tool utilising the latest in App development that intends to alert those with medical training to nearby emergencies so that potentially life-saving interventions can be given before the arrival of emergency services. 
Many people nowadays have a 'smart' phone – a communication device (phone) coupled with apps including location services (maps, GPS).  The power in your pocket can now be used to save a life!
The GoodSAM app is available for download for iOS, Android and Windows systems.
The 'Alerter' app is designed to be used by the lay public (it will notify ambulance via 000) and advice you of location of the nearest defibrillator.  Trained CPR-providers can also download the 'Responder' app and, when integrated into the Emergency Operations Centre, can be used to alert responders in the event of a nearby cardiac arrest.
The premise is simple – in a capital city, you are probably never more than a few hundred metres away from an off duty doctor, nurse or paramedic.  These people can now volunteer to be notified of a cardiac arrest via Ambulance, and respond to provide basic life support (CPR) until he ambulance service arrive.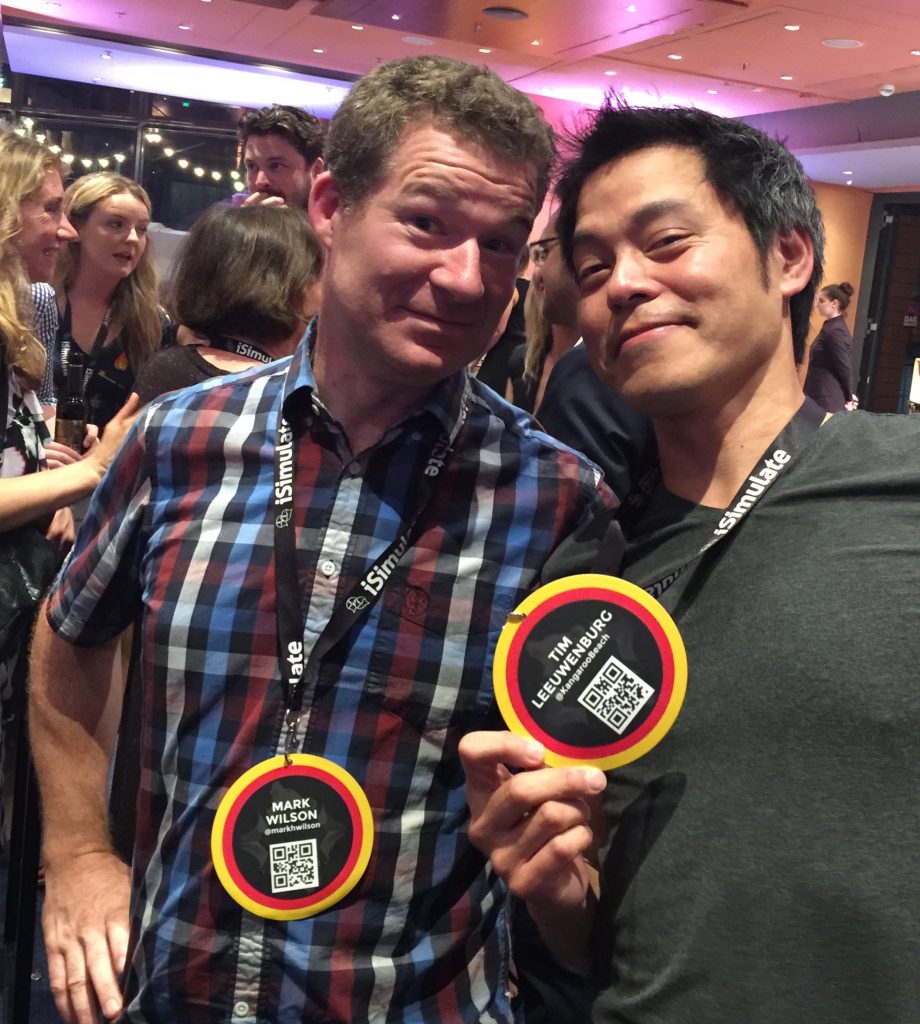 GoodSAM is a 'social enterprise' venture – the brainchild of an old mate from medical school (neurosurgeon and HEMS clinician Mr Mark Wilson), the app is now adopted across the world.  It's free for users and by joining you will be part of a GLOBAL SOCIAL ENTERPRISE VENTURE to be a 'good samaritan'.  There is no obligation to respond and the usual caveats re scope of practice and so on are found online at goodsamapp.org
For every minute that passes, survival drops by 10%
I am excited that SA Ambulance has announced that it will be launching GoodSAM at some point in the future.  As such they will join other agencies including Ambulance Victoria, NSW Ambulance Service, New Zealand and a host of services overseas (not least in London, where GoodSAM originated).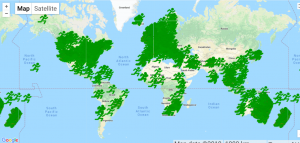 The use of GoodSAM responders is certainly not to replace existing ambulance responses – but instead to provide essential CPR in those vital few minutes between collapse, alerting ambulance and arrival of trained paramedics.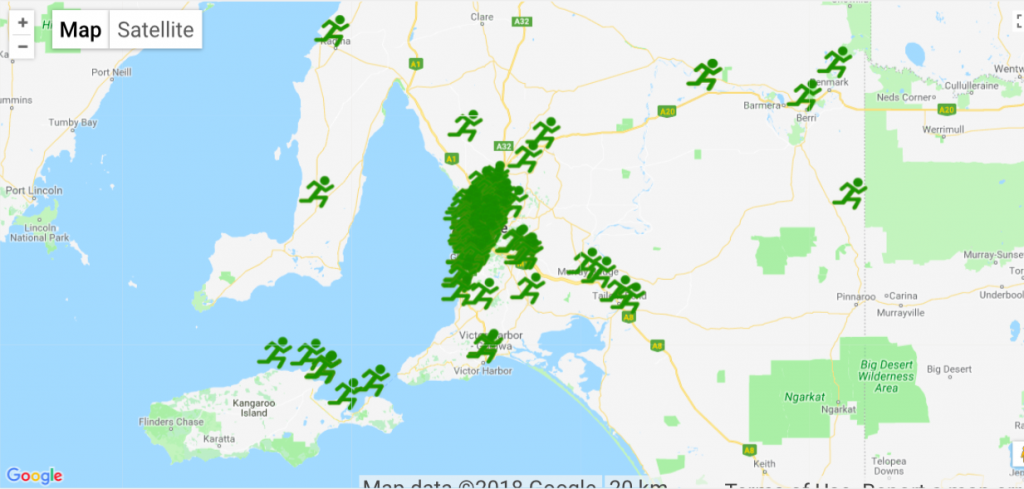 With the imminent adoption of GoodSAM in South Australia, there is now a 'Kangaroo Island First Responders' group within GoodSAM, so that existing emergency service volunteers (ambulance, SES, CFS, Coastguard, Parks etc) and doctors, nurses – indeed ANYONE with CPR training – can be registered on the GoodSAM system and mobilised in the case of an incident.
Of course the GoodSAM system can be used for more than just responding to cardiac arrests.  The system allows us to see the approximate location of responders and to message them in the case of a nearby incident – such as car accident, fire, flood or similar. It also shows the location of the nearest defibrillator, guiding the responder.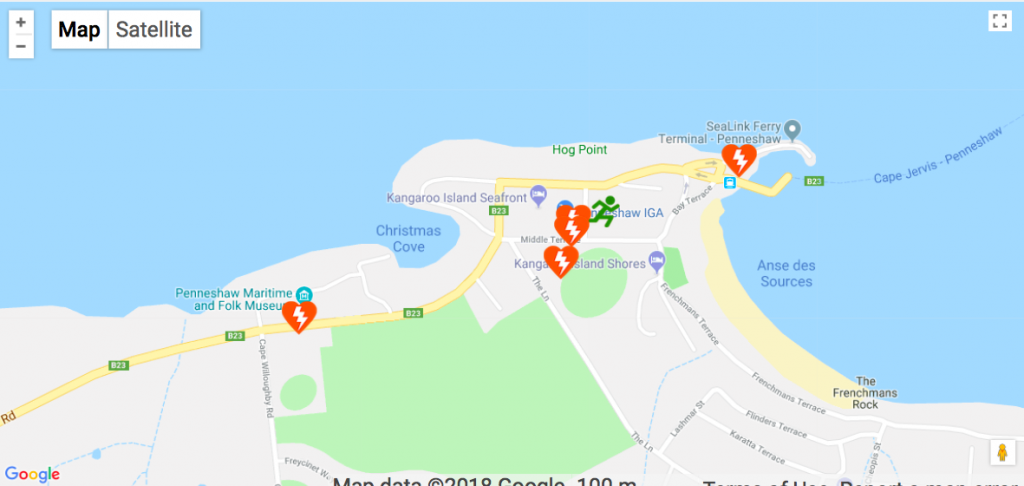 The notion of the 'Good Samaritan' is familiar to most of us from the Old Testament and school.  In rural Australia there is a strong culture of 'helping a mate' in a crisis.  The GoodSAM app allows us to build on existing community services and allow increased resilience in a crisis.
So what do I need to do now?
If you are not trained in CPR, you can still help!  Download the free GoodSAM 'Alerter' app and you can use this to both call emergency services (anywhere in the world) and locate the nearest defibrillator.
If you are trained in CPR, then please register online as a GoodSAM responder – see goodsamapp.org and select the 'Kangaroo Island first Responder Group'.  You will need to provide an email address and some form of proof that can perform CPR (membership of a recognised emergency organisation such as ambulance, SES, CFS, Coastguard etc).
Once you've done that, download the free GoodSAM 'Responder' app and leave it running on your device.
As the system grows and particularly once the 'responder' database is incorporated into SA Ambulance, this free app will allow the best chance of improved survival from out-of-hospital cardiac arrest.
In rural locations, GoodSAM can be used to add increased community resilience, allowing the rapid GPS location and alert of individuals in real time, categorised according to parent organisation (ambulance-SES-CFS-Coastguard etc) and flexible messaging between members.  Basically if you have your phone with you and the app running, then you can be located and mobilised according to need.
Go to GoodSAMapp.org to log in (see details below)
FOR MORE DETAILS, CHECK OUT:
ONLINE goodsamapp.org
NEWS ARTICLES AND VIDEOS https://goodsamapp.org/media
HOW TO REGISTER AS A COMMUNITY RESPONDER : A WALK THROUGH…
Go to GoodSAMapp.org to log in – select the 'Register as a Responder' tab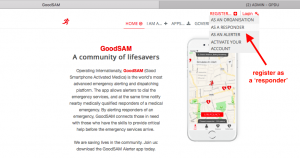 Select country as 'Australia'
…and navigate the the 'Kangaroo Island First Responder' group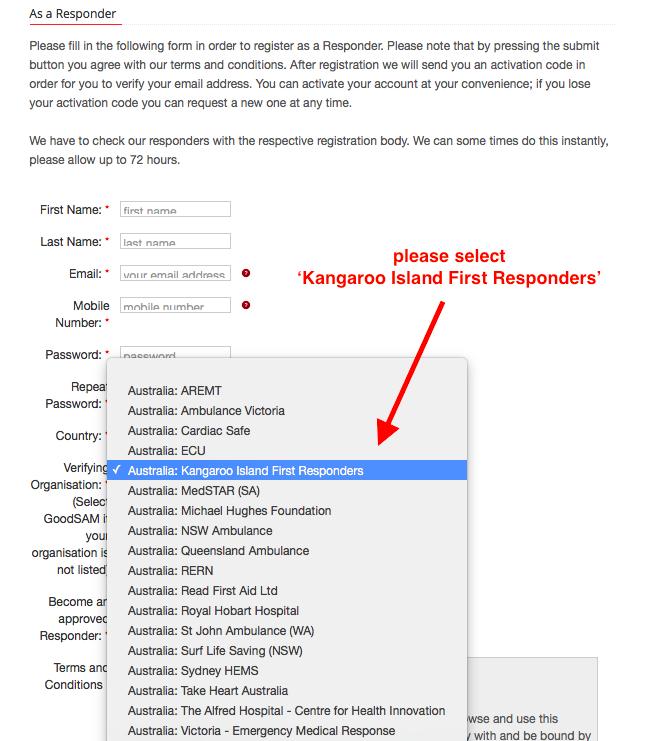 Now you need to select which category to register as!  I would suggest SA Ambulance Ambulance Officer (volunteers) respond as 'Ambulance Technician, CFS/SES may opt to register as 'First Responder' (I can assign to CFS and SES categories afterwards), Coastguard as Coastguard.  Other responders may select 'other' or 'first aider'.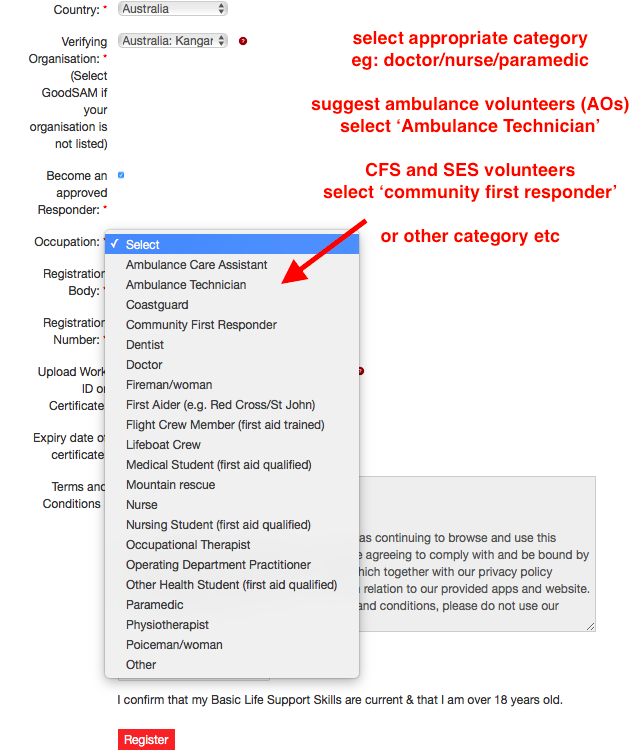 Nearly there!  It will ask you to select a 'registration body' and 'registration number'
Fortunately on KI it's fairly easy to confirm who is/isn't in a registered emergency responder group.  It may be hard to locate your paperwork, so you can always upload a photo.  GoodSAM DOES require some form of ID at this stage.
For first aiders (teachers, employees with a first aid certificate and so on) then either provide a copy of your Basic Life Support of Senior First Aid certificate (or equivalent) or message me so we can verify credentials.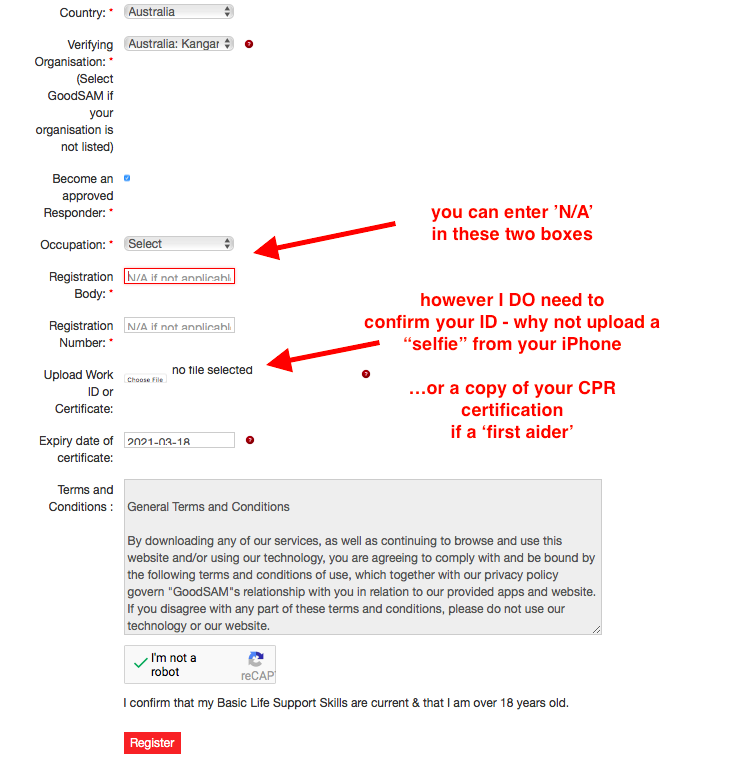 Once you've done all that I will approve applicants.
You will need to have the 'GoodSAM app' running on your smartphone – it runs in background and uses very little processor power.
If you REALLY want to help out, please ensure that your settings allow first and last name to be displayed. this means you can be easily identified in the case of a major incident and 'push' notifications sent to you…