Amidst all the trumpeting about the National broadband Network and the benefits of TeleHealth, I learned at the SMACC2013 conference from ACRRM that the hugely successful and useful TeleDerm service may be axed.
For those who don't know, TeleDerm is an initiative from ACRRM that has been around for a few years. It allows rural and remote doctors such s myself to photograph a skin lesion then email it, along with a brief precis of the patient, to a specialist dermatologist who can give advice – usually within 12 hours.
That is a fantastic service – waiting to see a specialist dermatologist can take weeks or months, costs a small fortune. Whereas this simple initiative works a treat and 'does exactly what it says on the tin'
From what I can gather, ACRRM submitted an application to DoHA in January year, with approval due in March 2013…
…and despite asking repeatedly, they have heard nothing.
There is a real fear that this service will be axed, which carries a huge impost for rural patients.
Not only that – but the service provided is delivered at a cost of approx one third that of a standard MBS consult. Yes – a third of the price!
So – a service that works – is cheap – may be axed and replaced with – well, what? An expensive NBN? A telehealth consult that is mired in red tape?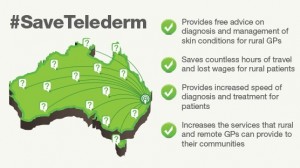 If you work in a rural community or are affected by this (given skin cancer's proclivity, this affects pretty much ALL rural Australian's), then get active – follow the #savetelederm hashtag on Twitter, make your voice known to @Tanya_Plibersek – or email this page to colleagues, friends and family.
TeleDerm really is too good a service to lose. See also discussion at FOAM4GP.com
http://foam4gp.com/save-telederm-in-2013/
Here is more information about TELEDERM via the Department of Health and Ageing website
RELATIONSHIP BETWEEN VISITING SERVICES AND TELEDERM