Regular readers of this blog will be in no doubt that I love the work of a rural doctor – but am not shy to express my frustration with some of the systems within which we are constrained.
Not least is the never-ending onslaught of safety directives from Country Health SA – kind of ironic that barely a week goes by without an email reminder not to inject chlorhexidine into the intrathecal space, to be careful with shoddy Chinese-knock off titanium hip screws and not to mix noxious chemotherapy agents in my consulting room.
But when it comes to meaningful issues, like the complete disinterest of CHSA in tangible risks such as the lack of difficult airway equipment in rural hospitals, the paucity of functioning cardiac monitors locally and the lack of enthusiasm for team-training and use of checklists, there seems to be no direction from top down.
A recent proposal to audit ED intubation in SA rural hospitals – perhaps the most high risk procedure that a rural doctor  will do (by default an occasional intubator), has been knocked back as 'not necessary'.
Meanwhile in-house compulsory 'morbidity & mortality' audit by the CHSA-appointed Principal Medical Officer (a non-rural GP who operates out of metro Adelaide) was focussed on – no, not retrieval cases, not near-misses on the wards – but on the proper completion of paperwork for deceased nursing home residents.
The mind boggles. So much for meaningful quality improvement. Yes I know that paperwork is important – but to focus on this area and not the issue of improving quality in how critical illness is managed in rural EDs seems somewhat lacking in vision.
I believe that this is symptomatic of a system that is prepared to measure everything but knows the value of nothing.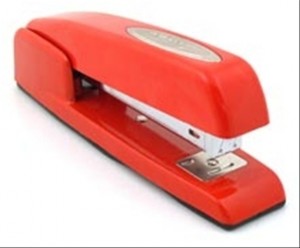 So what about the stapler?
Well, I reckon it was about three years ago that the stapler was removed from the doctor's office at the local hospital.
The reason? Apparently because staples are a safety risk – someone might cut themselves!
Now the only reason I use a stapler is to bind together a wedge of transfer paperwork when sending patients off the Island, either as a rotary-wing retrieval or as a fixed-wing transfer. Bundling together my letter, copies of the in-patient notes and nursing obs plus relevant letters/ECGs/X-rays etc as one parcel should make it easier for this information to be read and retained by the receiving team.
Now there is no stapler. So bits of paper get lost…and patient care suffers if vital information is mislaid.
Yes, I know that I could use a paperclip – but somehow there is never one around. But never mind – we are 100% compliant with a 0% stapler-induced-major haemorrhage death rate amongst the staff. We should be proud…
I find it hard to believe that I can be trusted with sharp scalpels, mind-altering drugs, laryngoscopes and other sharp/pointy/dangerous things – but not a desk stapler.
Somehow I bet there is a stapler in the CHSA CEO's office…