Sad news yesterday (30-3-13) – Dr Conrad Williams (FACEM) passed away peacefully Sat morning in hospice after a short illness.
Conrad taught me a lot in the ED a decade or so ago and I know he has been inspirational to colleagues and juniors in Emergency Medicine in Adelaide. It was a privilege to teach with Conrad on EMST and he recently enthused about the Clements-Leeuwenburg-Williams doctrine of making teaching fun, interactive and memorable (Pete Clements is another rural doc and a mentor to both Conrad and myself in EM and rural practice respectively). I remember vividly Conrad's EMST video and voiceover of 'rapid infusion catheter' to the soundtrack of "Debbie Does Dallas", as well as numerous memorable events in the ED.
Conrad will be missed by all those who knew him in the emergency medicine community – he epitomised 'quality care, out there'.
Sincerest condolences to Chris.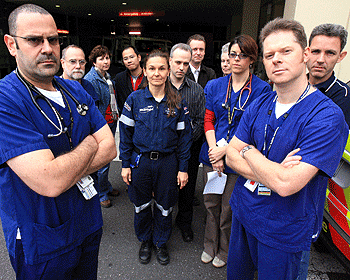 Now on to this weeks blog…
A couple of things this week have caught my interest and build upon topics previously discussed over past 18 months.
I caught the excellent Horizon episode on "How to Avoid Mistakes in Surgery'. Narrated by Dr Kevin Fong, this excellent episode covers issues such as loss of situational awareness in crisis management, acknowledgment in many industries that human error is inevitable and discussed the use of checklists and high-fidelity simulation in training.
I was at medical school and an intern with the Fongster (click on photo below). He's memorable for doing his student elective with NASA (including riding on the 'vomit comet') and it is truly a pleasure to see that his career has blossomed, now a Consultant in Anaesthetics & ICU back at University College where we graduated. Kevin's book 'Extremes' was also launched this month and is a thoroughly good read.
Whereas Fong has made a career out of photogenic presentations for Horizon, Extreme A&E, been named on Esquire's list of "100 most influential men under 40"  and continues to make great strides in space medicine, I have become a rural doctor practicing 'anything & everything' on Kangaroo Island, Australia. How could his career have derailed so badly? Looking at the photo below (me second row, scrubs and stethoscope round neck, Fong same row left of pic) I wonder how the other interns fared?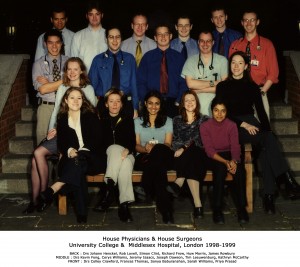 Career differences aside (& gentle joshing – Kevin is a nice and unassuming bloke, like Weingart and Reid), the show articulates well some of the issues that I have been passionate about & discussed in previous posts on this blog.
Taking the infamous Elaine Bromiley case (CICO), he explores human factors and ways in which as doctors we should mitigate against error. Importantly it is NOT about how bright you are – it's about having systems in place, using appropriate aides and training. This might sit raw with some doctors who persist in the 'I am a brilliant docor and don't make mistakes' school of thought, but is salutary for those of us striving to bring quality care, out there – not just through personal endeavours but by trying to improve the systems in which we work.
Like all doctors I have strengths and weaknesses. Moreover if you think about it, half of all doctors are below average! So we need to both acknowledge this and look for ways to improve. Checklists, sim training and #FOAMed all help.
Andy Buck has done a lot of work on this over at Resus Room Management and I am eagerly awaiting his course for EM physicians, incorporating human factors, sim training and #FOAMed into a course that promises to raise the bar significantly over existing EMST-ALSO-REST-APLS courses.
In a similar vein, I am delighted that SAPMEA re going to support a 'rural doctors masterclass' on Kangaroo Island in November this year – something I have been agitating for a long time, but (frankly) struggling to persuade as useful with key bodies in rural medicine like ACRRM and RDAA.
Put simply, the existing courses out there set a minimum standard. They are useful and give a structure. Heck, I direct on EMST so I reckon there is some value. But there is a yawning chasm between the standardised info taught on these courses and the cutting edge of #FOAMed. Of course there ARE more advanced courses – MOET for obstetricians, STAR for retrievalists, Difficult Airway for anaesthetists/EPs – but wouldn't it be wonderful to incorporate some of these ideas into a course for the huge cadre of experienced rural docs who are striving to bring 'quality care, out there'?
In my area of interest (GP-anaesthesia), I have attended annual anaesthetic upskilling in NSW and SA, and although the course content was solid, felt frustrated with lack of coverage of new issues such as apnoeic diffusion oxygenation, delayed sequence intubation, dynamic airway and crisis management etc etc which are bread & butter for those following #FOAMed. I am sure there are plenty more topics in other arenas which are relevant to rural generalists…
So the RURAL DOCTOR MASTERCLASS will be a tentative foray into this world.
We hope to offer a bespoke course aimed at rural doctors, showcasing some of the useful tips and tricks discussed in the #FOAMed community. If successful I reckon this is a model that ACRRM or RDAA could take and promulgate – a course that continually evolves, is small-group and focussed on case scenarios and hands-on material.
Essential to this is evolving course content and a syllabus that embraces #FOAMed concepts – rather than a series of lectures, this masterclass will be more of a "getting together" of experienced country doctors, prepared to discuss openly successes and failures in their work. Unashamedly aimed at topics around resuscitation – the hardest part of our job, as we mostly work alone & are unsupported in resource limited environments – yet our patients are still sick. After all, critical illness does not respect geography!
Likely topics to be covered include :
– Resus room set up
– RSI for the occasional intubator (DASH-1a, NODESAT apnoeic diffusion oxygenation)
– Delayed sequence intubation
– Checklists and crisis management
– Difficult airway tips & tricks relevant to rural doctors
– Hands on with videolaryngoscopes, intubating LMAs, malleable stylets and flexible fibreoptic scopes
– Extreme obstetrics – PPH, cord prolapse, resuscitative hysterotomy, neonatal resus
– Ketamine focus session
– Intranasal medications
– Managing massive haemorrhage in rural setting
– Team training – sepsis, cardiac, neonatal, trauma
– Prehospital / mass casualty exercise
Sadly I don't think that there will be sufficient scope to cover the use of ultrasound – although a discussion of it's use in eg: diagnosis of pneumothorax and other examples for time-poor rural docs in emergencies would be appropriate.
At this stage it is looking like a two day course in mid-late November. More details TBA…
Interested? Register NOW with SAPMEA or email Erin Gray at SAPMEA – [email protected]
Other IDEAS FOR topics for inclusion are welcomed.