There has been a change in SA Health his year as outgoing Health Minister John Hill retires and Jack Snelling steps into place. I don't envy whoever has this portfolio – the cost of health continues to rise, as does demand – and yet available health budgets are shrinking.
This week the ABC reported $1 billion health cuts over the next 4 years in SA health. The Minister was reported as saying "I think we can reduce the number of clinical staff and still maintain a reasonable level of services." Personally I disagree – hospitals are already at capacity and despite 'efficiency saving reports' from the likes of KPMG, ministers need to realise that you cannot run health like a widget-factory; there needs to be surge capacity and slack in the system. However, I am all for saving money when appropriate. Which is why recent spending on unnecessary equipment by Country Health SA puzzles me.
In late 2012 a new anaesthetic monitor was delivered to us on Kangaroo Island. We were told it was part of an across Country Health SA strategy "to meet requirements" in Operating Theatres. Sure enough, the new monitor is a 'you beaut' device, with touchscreen technology and allowing us to do fancy things like spirometry and bispectral index sensing – which we never had before.
The problem is, the old monitor worked perfectly well and didn't need replacing. I've checked and double-checked the ANZCA guidelines – and can't find a requirement to have these extra functions which we've been told are 'mandatory'. I'm not even convinced of the need for BIS, other than in paralysed patients being transported where risk of sedation failure may be present (read more on BIS here).
The disappointing thing is that we really need an EXTRA monitor in our location.
Currently post-op patients are monitored in 'Recovery' which is also our small 'Emergency Room'. We use the MRX defib as a post-op patient monitor. Which is fine, so long as there is no emergency patient who also needs monitoring. As well as the need for two monitors, there have also been occasions when the anaesthetic monitor has malfunctioned – so having a backup immediately available makes good sense (particularly when you are on an Island!)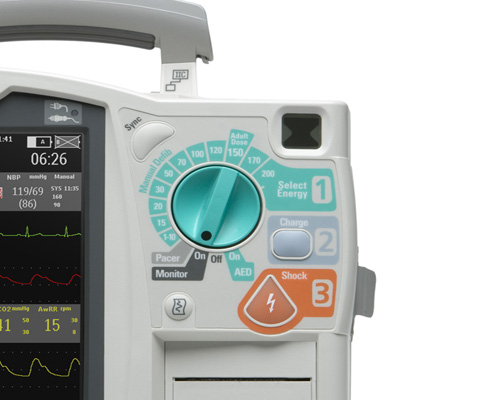 So my efforts in the past have been directed to getting an additional monitor for our ED/Recovery…as well as to purchase equipment to meet ANZCA standards (equipment to manage a difficult airway being one particular bugbear). We've had some success – we've sourced and fitted out a difficult airway trolley and some signage. Sadly there has been no committment by CHSA to supply a fibreoptic device or videolaryngoscope (I ended up purchasing my own) to manage a difficult airway…and have been told there are 'no funds' to purchase an additional monitor.
The Health Minister Mr Jack Snelling wants to save money. I get that. But this new monitor allegedly cost $17K. There are fifteen sites across CountryHealth SA which provide anaesthesia – so that's $255K spent on monitors which may not be needed.
There you go Mr Snelling – a $255K saving for you.
I've emailed the CHSA lead for anaesthesia, Dr Sara Norton to ask about this. She tells me she was unaware of the decision to purchase these new monitors and did not consider either BIS or spirometry as mandatory requirements for monitoring. Which makes the purchase of these $17K per piece monitors even more puzzling. To date, Sara has not been able to get an explanation from Peter Chapman (Acting CEO of CHSA) re: this decision.
Seriously – that money could have been better spent in rural hospitals on essential additional equipment. We are repeatedly told there is 'no money' and purchase of much equipment falls upon efforts by local charities like CWA and Rotary. I think rural Australians deserve the same access to essential equipment as their metro cousins…and wish that decisions on equipment purchase were made in consultation with local clinicians.
Perhaps Jack Snelling should be asking Dr Peter Chapman – who is making these decisions and where is the governance?