Well, finally my wife's iPad3 with the spanking retina display has arrived. I'm a tad jealous, but more importantly it now means I have two iPads to play with…


…and that has been vital for running a groovy piece of software called iSimulate.


I dunno about the rest of you medicos, but I've been to a fair few simulation training sessions, mostly as a junior doctor doing basic and advanced life support. More recently I've been through the simulation lab at the Royal North Shore, doing the thoroughly excellent 'emergency management of anaesthetic crisis' or EMAC course.


These sims are high fidelity and rely on life-like mannikins, realistic environments with monitors, emergency room or operating theatre equipment etc. Moreover, such training tends to only happen as part of a dedicated training session – which may be only a few days every few years.


So I was intrigued when I saw a pre-launch version of iSimulate a few months ago at an EMST course – in fact, there were a bunch of senior EMST instructors there (intensivists, emergency physicians, surgeons and self) who all agreed that the concept was brilliant.


iSimulate is an app for the iPad – using two iPads and a wireless netowrk connection, one iPad serves as a monitor and the other is driven by the instructor.


The beauty is that the iPad screen has been set up to look just like a standard monitor, with displays for ECG, SpO2, invasive BP, ETCO2, RR and manual BP. The iPad also has realistic alarms, just like standard monitoring equipment. Pressing the 'BP' button even causes a realistic 'cuff inflation' sound which will be familiar to anyone who's worked in resus or theatre.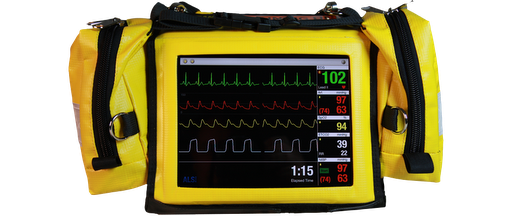 So now one can run a realistic simulation 'on the run' – at anytime, in any place.


No more reliance on a simulation lab, purpose-built mannikin or dedicated time off to run turgid BLS/ALS courses – with this app one can run a mock resus every shift, or at the end of a theatre list in the standard work environment, in the clinic, at the roadside.


I think it's a game changer potentially. And my baby roo (Boo) thinks it's a wonderful device…


What's that Skip? He's in haemorrhagic shock?
Instructor iPad on left, Student iPad on right


There is however one drawback – it's $2000 initially then $500 per annum thereafter…and you'll need to buy two iPads and a wireless connection (would be mayhem if ran over 3G).


There is a version for $4900 which gives 'lifetime' support and licensing. You can see more and a video using a teddy bear (Hugh Grantham's idea) of the app in action at iSimulate.com.au


However, I think this price still puts the app out of reach of small country hospitals and individuals. The big organisations will be able to afford this easily…but no doubt organisational issues will mean that simulation training continues to be rolled out in the usual 'once a year compulsory training session' covering just ALS and BLS.


Which is a shame, because the portability and flexibility of this app mean that meaningful sim could be delivered whenever and wherever needed


I'm in theatre next week, and I reckon we'll use the demo version to run a mock malignant hyperthermia or anaphylaxis under anaesthesia scenario, just for a giggle.


That would be brilliant. But $4900 to educate the hospital staff at my own expense? Probably not…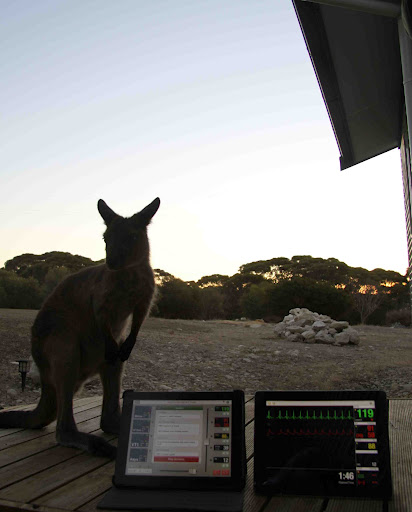 Boo the Roo explores the possibilities of iSimulate
…but baulks at the price tag