Well the "Masterclass in Rural Medicine" on Kangaroo Island is over, allowing pause for reflection. The brief was to highlight FOAMed material relevant to the rural clinician, using short interactive presentations and hands-on skills stations.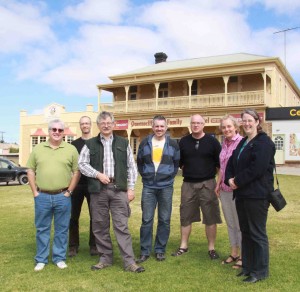 Whilst feedback was generally positive, I am always looking for ways to improve and have had some chance to think about what went well … and what didn't. Sadly any event is a compromise between content & time with available resources & location. You can read Dr Penny Wilson's review over at the "Nomadic GP" blog or click HERE to read Penny's thoughts.
Formal post-course evaluations will be sent out by SAPMEA to enable claiming of CPD points and the procedural grants for those eligible.
Most of the FOAMed content discussed on KI can be found at sites such as :
Many attendees asked about the SMACC2013 videos and the infamous Elaine Bromiley video which was discussed amongst the SA GP-anaesthetists in an impromptu breakout session after the formal course.
I would encourage ANY rural doctor with an interest in the intersection of critical illness and rural medicine to attend smaccGOLD in March 2014. SMACC2013 was without a doubt the best conference I've ever been to. Check out registration from www.smacc.net.au – and remember, critical illness does not respect geography!
RERN members and those interested in improving resus skills attended a post-course session facilitated by Dr Hugh Grantham and Ms Chris Wilson, utilising the local hospital resus room and involving local nurses. Participants completed four challenging scenarios
60 yo obese patient with sepsis, requiring ramping, NIPPV, DSI, inotropic support
20 yo man with a fish in his oropharynx, resulting in a 'can't intubate, can;t oxygenate" crisis
50 yo tourist with complete amputation of left lower leg in a motor vehicle crash, needing control of catastrophic haemorrhage, balanced resusctiation and tranexamic acid loading
25 yo 38/40 pregnant female from same crash, suffering asystolic arrest and requiring perimortem C-section on the floor of resus bay…then resuscitation of the neonate.
Using iSimulate and careful debrief helped make this a worthwhile exercise. Thanks to SAAS volunteers and nursing staff who attended.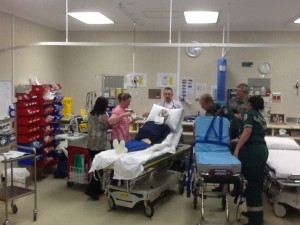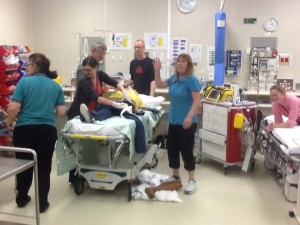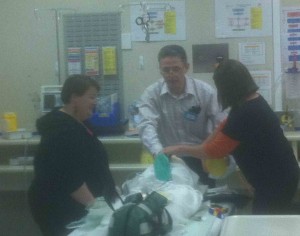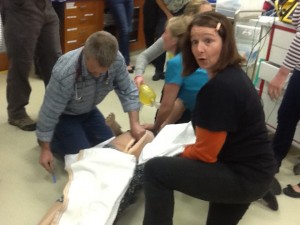 Event summary
Location : Ozone Hotel, Kingscote, Kangaroo Island, South Australia
Organised by : SAPMEA http://www.sapmea.asn.au
Coordination
Ms Nicole Thomson (SAPMEA)
Ms Chris Wilson (Flinders University)
Speakers
Dr Tim Leeuwenburg (Kangaroo Island) FOAMed & Mastery
Dr Dan Ellis (medSTAR) Critical Care in the Country
Prof Hugh Grantham (Flinders Paramedic Unit) Tips & Tricks for ED
Dr Chris Dobbins (Royal Adelaide Hospital) Trauma Tips & Tricks
Dr Yen Yung Yap (Adelaide) Obstetric Emergency Management
Dr Jamie Doube was slated to talk on 'managing haemorrhage in austere environs' but was mobilised as part of the AusMAT response to the post-typhoon Filipino disaster. Short videos from Cliff Reid & Scott Weingart at SMACC2013 were used as fillers.
Dan had to fly back for the SA Health awards on Friday arvo; Scott Lewis kindly stepped in to continue the skills station. Outstanding help from Mike Catchpole of RFDS QLD who registered as an attendee, but ran six repetitions of the 'psych emergencies' skills station for no reward. Legend.
Skills stations
What's new in Airway? (Tim Leeuwenburg & Jarrad Harkin)
Cardiac Conundrums (Hugh Grantham)
Trauma in the Bush (Chris Dobbins)
Agitated Delirium & Acute Psych Emergencies (Mike Catchpole)
Preparation & Packaging for Retrieval (Dan Ellis / Scott Lewis)
Paediatric Pearls (Ben Stanton)
Duration & CPD
Full day Friday, Half Day Saturday
Pre- and post-course educational activity
Eligible for ACRRM and RACGP points inc. ALS (two days)
Procedural grant funding for EM, Obs, Anaes categories (two days)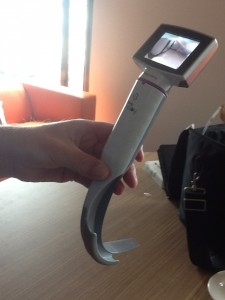 Feedback?
Informal feedback has generally been positive, although I suspect that it will take time for FOAMed and the advantages of using social media tools such as blogs, podcasts and twitter for filter out into mainstream rural medicine. Thankfully ACRRM and RACGP are on board, looking to embed this into both registrar training but also to life-long learning for established rural doctors.
The real strength of such an event is the informal 'corridor conversations' that happen at skills stations or in breaks. For me the most valuable time was dinner after the course and breakfast next day, where some informal networking amongst SA GP-anaesthetists highlighted common problems with equipment, training and audit that remain unaddressed within CHSALHN.
Problems?
This was the 'cursed course' from where I stood, with late withdrawal of key speakers, difficulty engaging the local hospital to allow on site use of OT and ED (demonstrating difficulty airway equipment, signage, resus room layout and hands-on with OxyLog etc). It was also difficulty to ensure that content remained relevant to rural doctors and was delivered by those who understand the subtleties of rural medicine. I think both Dan Ellis and Hugh Grantham spoke well to this, reflecting experience outside of the tertiary hospital environment.
Organisational matters such as travel, accommodation & location were managed by SAPMEA, as were pre- and post-course educational activities. There are considerable logistical difficulties with organising an event on Kangaroo Island, and these were dealt with.
Time wise, it is always a balance between content and available time. My preference is to offer small group, hands on sessions – but having 24 attendees, limited facilitators and a lot of content (EM-Anaes-Obs-Psych-Surgery) lead to inevitable compromise.
The future?
There was interest in running a similar event in rural SA again, probably on an annual basis. It is important not to detract from existing courses (eg: anaesthetic refresher at Lyell McEwin Hospital held every two years, RESP course required for CHSALHN credentialling every triennium).
I also feel that such a course would benefit from an extra half day, preferably involving hands-on sim training. It is a great pity that none of the KI Hospital staff attended despite being offered places; similarly it was a shame that the Hospital could not see fit to re-schedule theatre to another date to allow access to OT and ED, for benefit of both attending doctors and also the hospital staff.
My wish list for the future would be :
an annual 'rural masterclass' event, sprinkled with FOAMed concepts
rotate the location around rural Australia sites
content to be "by rural drs for rural drs" ie: hosted and organised by rural docs
speakers who 'get' the unique nature of rural medicine rather than the city specialist
short lectures, 20-30 mins, backed up with skills sessions (small group)
on site sim sessions involving local facilities to encourage team work
hands on w kit such as Oxylog, difficult airway trolley, resus room management etc
more scenarios, and (perhaps) an out of hospital RERN-SAAS exercise
more time to interact, exchange ideas
On a local level, it was clear from many of the GP-Anaes who attended that their remains a lack of coordination in rural South Australia, with problems of kit, training and ongoing CPD shared amongst sites. I look enviously to other States (such as Queensland and WA) which have regular audit and commonality on equipment. There was a shared feeling of lack of leadership from within CHSALHN.
So – that's my thoughts. I am interested in feedback from those who attended – either to SAPMEA (responsible for coordinating event) or to me via this blog or email.