Rural medicine is, if nothing else, full of variety. Rural doctors generally prove themselves to be adaptable (the 'Macgyvers of medicine') due to the varied nature of their work.
My mission is to help bring new concepts from the evolving FOAMed world to rural doctors – with the bottomline of helping to bring 'quality care, out there'. Active engagement in concepts such as sim training, resus room management & applying techniques used in special circumstances elsewhere can help us deliver this goal.
I was delighted to read the novel case of airway vs fish in today's 'Australian Doctor' and BMJ case reports. Quoting direct from Australian Doctor :
"The  bizarre mishap occurred when the 22-year-old, on a fishing trip to the Murray River, decided to pucker up and kiss his first catch of the day. Unimpressed by his romantic advances, the fish wriggled free and slid headfirst down the man's throat, complete with fishing line and hook attached. Its fins and spines swiftly became hooked in his oesophageal and hypopharyngeal mucosa — defying multiple attempts to pull it out. What followed was a life-saving medical marathon, involving three hospitals, over 150km of driving and an array of quick-thinking doctors.
"In severe respiratory distress, the man was first driven to the hospital in Barham, a country town of 1200 people on the NSW-Victorian border, where an emergency cricothyrotomy was performed.
"With some oxygen getting in, but deteriorating fast, he was transferred to a larger regional hospital at Kerang, Victoria, where the only local GP with advanced airway training was called in to perform an orotracheal intubation. The procedure proved extremely tricky – the now-dead fish was completely obscuring the oropharynx — but a size 4 microlaryngoscopy tube was eventually squeezed past, allowing the patient to be properly ventilated at last.
"But this was not the end of his woes: now surgeons at a third hospital, Bendigo, were left with the challenge of getting the dead critter out. In what is thought to be a unique procedure, they opted to cut off the fish's tail and core out its upper body with a bone rongeur. This "collapsed" the remaining part of the fish, so scissors could be passed down its side to snip the scales and spines that were holding it in place. The leftover carcass was eventually pulled out with forceps.
"Dr Laurence Weinberg, who reported the case this week, said to his knowledge it was the only Australian case of airway obstruction caused by a whole live fish. Similar cases from overseas had all proven fatal. The man developed aspiration pneumonia and sepsis, and spent eight days in hospital, but has since made a complete recovery."
Brilliant. A great example of how 'critical illness does not respect geography' and the need for rural doctors to be able to perform life- or limb-saving procedures (ironic that the Kerang doctors were involved, considering their exclusion from the Kerang train crash and reliance on State retrieval services rather than local talent).
So I've been playing in the ED with our resus mannikin and a fish. Who knows what other challenges will be laid down for the attendees on the rural doctor masterclass to be held on KI Nov 15/16 2013?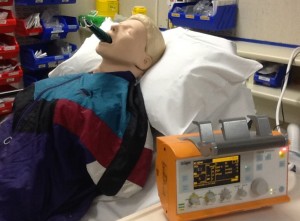 We ran this as a mini-scenario in our small rural ED – and I was glad to say that lessons learned through FOAMed – importance of 360 degree patient access, use of checklist and CICO drills helped us manage the patient!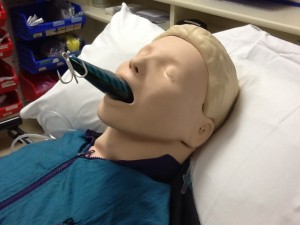 Interesting that an earlier clinical episode requiring the use of CPAP was more of a challenge – despite the doctors having recently attended a Country Health SA 'mandatory accreditation' RESP course covering use of CPAP, the actual practical aspect of using the Oxylog under crisis conditions proved to be a challenge.
As always clinicians should think 'logistics vs strategy' and embed psychomotor skills and practical 'how to' knowledge as well as theory. Current entry-level courses don't always deliver. Hopefully the rural masterclass will go some way to addressing that gap.