Just heard that former Kangaroo Island doctor, Dr James Doube, has been awarded the Antarctica Medal.
Jamie is currently over in NSW doing anaesthetics upskilling. If we are going to talk about skills of rural doctors, then I reckon this chap is up the top – he's a GP-surgeon, an excellent doctor and will soon have his anaesthetic ticket.
Moreover, he's comfortable with tackling ropes, steering a boat in frigid Antarctic waters and even penguin or seal anaesthesia.
James came to Kangaroo Island a few years back as a GP-registrar, having already served one tour down on Macquarie Island. Inevitably he was drawn back, especially to be part of the rabbit eradication programme down there.
He is truly one of those Magyver's of medicine and if I were ever stuck in a lifeboat I would pray that someone with the calibre of Dr Doube was with me.
and I copy this from the press release 21/6/12
"Dr Doube who was the Station Doctor, Search and Rescue Leader, Field Training Officer and Watercraft Operator for more than three years received the award for outstanding service to Antarctic expeditions to Macquarie Island.
"Dr Doube has an exceptional level of skill across a variety disciplines including generalist medicine, expedition medicine, public health and occupational medicine,'' Mr Burke said.
"He has honed skills in biology and science, communications, media, search and rescue and field support and enabled the success of the various expeditions and programs and is an inspiration to other doctors practicing remote medicine."
Jamie, bloody well done mate. You are a credit to rural doctors and the AAD.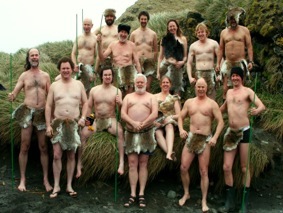 Dr JD, back row, left with fur skin hat