Well, it's just over three weeks until the expiry of the current contract between rural doctors and Country Health SA.


Call me a cynic, but I won't be holding my breath. It's no secret that many rural doctors are less than enthralled with their working relationship with CHSA in the past. Up until 2009 we didn't even have a contract describing working rights and responsibilities between doctors and their hospitals. Moreover the existence of 'local deals' saw a huge disparity in oncall payments between doctors in different health units.


Astute readers on the web or those dialled into medical politics may be aware of the Kangaroo island doctors being caught up in a brouha in 2009 when they expressed dissatisfaction with their terms of service and threatened a boycott. Indeed, at a recent NSW rural proceduralists meeting, when I mentioned that I was from Kangaroo Island, many doctors stated they'd been following the matter from afar (news to us, as we felt isolated in more ways than one!). I guess that I am tired of explaining the issue, so here is the short story.


Back in 2009 the KI Docs were fed up with the lack of a contract and the fact that their colleagues over at Victor Harbor were paid on a totally different (and more generous) package, despite us sharing the same CEO for both hospitals. Seeing patients at the hospital is at the expense of running a practice (put simply, every hour that a doctor is called away from his/her clinic means more patients that aren't being treated…and the doctor remains responsible for his her practice costs whilst subcontracting to CHSA as the oncall doctor). Oncall work is an essential part of being a rural doctor, but in a tourist destination, the work of running A&E for the Health Department comes at the expense of doctor's private practice…with none of the benefits of long-service leave, Workcover, superannuation or adequate remuneration. The disparity between our pay and that of our 'sister' hospital was making it hard to recruit and retain doctors locally, threatening the viability of medical services on Kangaroo Island.


In frustration, we spoke to the ACCC and our hospital CEO; the former advised us that as a group practice we were allowed to collectively negotiate our terms …and the latter suggested that if we didn't like it, we escalate our issue. With ongoing stonewalling by CHSA, we wrote to the Hospital CEO and proposed a withdrawal of our services unless a contract of our liking was instituted. Within a week the (then) CEO of CHSA had flown in to meet us, agreed a handshake promise that a new contract would be forthcoming, and we agreed to continue working and thought no more of it…until the week after, when the ACCC invited us to Adelaide to explain our actions (noone is sure who reported us to the ACCC, but I can say with some certainty that it wasn't the KI doctors!).


The ACCC required all five of the doctors to fly up to Adelaide to be interviewed – the irony that in so doing the island would be without sufficient doctors to provide oncall services seemed lost on them. Over 2-3 days of interviews and a tense wait, we finally received a slap on the wrist over our actions and a promise not to do it again (apparently we were allowed to collectively negotiate…but not to threaten a boycott – a fact that we were unaware of).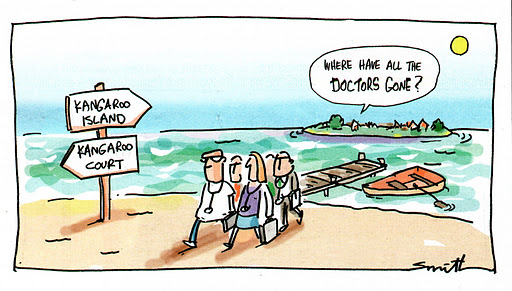 "Medical Observer" magazine summed it all up


All in all this was a harrowing experience that lead to the loss of one doctor from the Island and was both professionally and personally exhausting. Needless to say, this affair did little to bolster confidence in our relationship. Indeed, the following year saw the virtual collapse of our ability to deliver A&E services (doctors left, two went on maternity and paternity leave, one declined to rejoin the roster after a sabbatical etc) and CHSA flew in locums at great expense, not all of whom were up to scratch.


The current contract was negotiated in 2010 by the RDASA (the AMA rejected it) and signed by many rural docs in SA for a limited period of 12 months only, in the expectation that a better contract would be negotiated for the future. Of course, those on existing 'sweetheart' deals continued on them and will do so until their expiry…


So – the new contract is due on Dec 1st. You can see the proposal by the RDASA here. I am unaware of any response to this offer at the time of writing…and it fills me with alarm that only three weeks remain for a contract to be agreed, signed and implemented – especially one that ties rural doctors in for three years.


Not a good way to do business, I fear. To my mind, several issues remain to be answered satisfactorily by CHSA in any new contract:


– remuneration for being oncall and attending meetings etc, reflecting the cost of so doing to the doctor's private practice (we have to pay staff/utility bills/rent etc even when we are working at the hospital),


– clarification of 'who pays' for non-admitted A&E attendances (in rural SA, patients are billed by the doctor for services which they would receive for free in a metropolitan ED). CHSA refuses to accept liability for the doctor's fees unless the patient is admitted to hospital for over four hours (so things like reducing a shoulder dislocation, rehydrating a migraine, suturing a wound, forensic medical exam etc are cost shifted from State to Medicare by CHSA, despite these services provided as the oncall doctor's duty when working for CHSA)


– safe working hours and locum relief. We are all getting older, and the idea of working a 72 hour shift for A&E is increasingly untenable. Obstetric and anaesthetic doctors may be rostered oncall for several months at a time, with scant opportunity for a locum to relieve them,


– clarification of whether admitting rights are to be tied to signing the oncall roster. Many doctors provide a valuable service to inpatients (palliative care, frail elderly etc) but, for various reasons, may not wish or be able to participate in the oncall roster. Better to keep these doctors on side, rather than 'conscript' them…as towns then risk losing valuable doctors who can participate in clinic and routine ward work, but aren't prepared to be up all night,


– status of existing 'sweetheart' deals in rural SA (eg: Victor Harbor, Naracoorte, the Riverland, Whyalla and who knows how many others). Simply, will there be a uniform contract for all rural doctors, or will their continue to be different deals according to geography/local circumstances etc? If so, how are these determined?


There are probably lots of other things that will need clarification…but in the absence of a draft contract to read and a real time pressure before the current contract expires, I am less than sanguine about CHSA's sincerity.


To my mind, a partner who was willing to engage meaningfully would have sorted all this stuff out weeks or months ago. But I have been burned in the past…


I'll update if there's any news.


A CHSA negotiator prepares to 'negotiate' with a rural doctor
"Watch where you're putting that fist!"